Arsenal's contract rebel Alexis Sanchez has been a subject of some serious transfer interest from clubs around Europe. The clubs interested in the services of the Chilean include both Manchester clubs, defending champions Chelsea, PSG, Real Madrid and formerly, Bayern Munich.
However, French giants PSG were looking to be the frontrunner for Sanchez's signature, with the Parisians reportedly offering the Chilean an extra 10m 'welcome offer' if he signs a pre-contract deal with the club in January. However, AC Milan have decided to make a move as well. The Rossoneri are reportedly plotting a grand offer of €75m euros to hijack Sanchez's PSG deal and snatch him in the upcoming winter transfer window.
Sanchez will be free to sign a pre-contract agreement with any club and play out the rest of the season in the Premier League. But the Chilean is more or less desperate to leave the Emirates and there's a chance that he can accept Milan's offer in winter. But the question arises – can the Gunners afford to lose their star player in January.
For the most part, it would likely be a – YES. However, there are some drawbacks, if Arsenal let Sanchez leave in January.
First and foremost, the Gunners have been nowhere near impressive this season.
Dawdling in the fifth position of the league table with just four wins in seven matches, head coach Arsene Wenger run the risk of facing the sack, albeit still a long shot, especially with managers like Carlo Ancelotti and Thomas Tuchel now available on the market.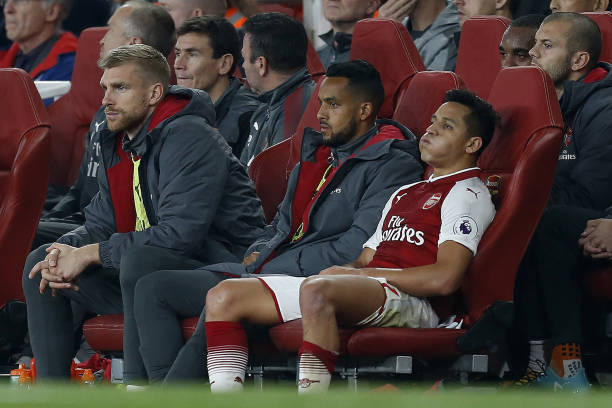 Therefore, finishing the season on a good note will be extremely important for Arsene Wenger, if he wants to save his job come the end of the season. And having Sanchez in the teamsheet is very crucial for the completion of their objective this season.
Mesut Ozil has suffered from a few niggles early on in the season, while Santi Cazorla remains a long-term absentee for the Gunners. Theo Walcott too hasn't really stepped up to the plate in the past 12 months or so, meaning Sanchez remains the only hope for Arsenal's offensive line.
However, one would sense that one way or another, the North London club will still have to replace Alexis Sanchez before the start of next season.
Shipping him off to AC Milan could turn out to be a very profitable deal for Arsene Wenger. Not only he can profit around €40m on a player who has already given the club four years of relentless service but it can also give his replacement some time to get settled under the new conditions.
Make no mistake, Arsenal will be offered a gem of a deal, if the AC Milan reports do come true at the end. It will be interesting to see how the Gunners will tackle the situation come January.