Arsenal are the latest club to show interest in Borussia Dortmund youngster Christian Pulisic. The Gunners have lodged an inquiry for the availability of Pulisic, as per the Sun.
The American teenager has been in impressive form this season. Following the departure of star player Ousmane Dembele, Pulisic has embraced the challenge to replace the Frenchman with open arms. Despite the presence of several star players in the team in Andriy Yarmolenko, Maximilian Philipp, Shinji Kagawa and Mario Gotze, 19-year old Christian Pulisic has constantly managed to secure regular game time this season.
Borussia Dortmund coach Peter Bosz thinks very highly of Christian Pulisic. The Dutchman tipped the American to win the FIFA Golden Boy award. "He has to win the title," Bosz said at a media conference ahead of Dortmund's match against Borussia Monchengladbach a few weeks ago.
Pulisic could be of some significant help for Arsenal. The Londoners have struggled with lack of form and consistency for the past few seasons and with their star players in Alexis Sanchez and Mesut Ozil eyeing an exit next summer, the 19-year-old could be a perfect replacement for Arsene Wenger's side.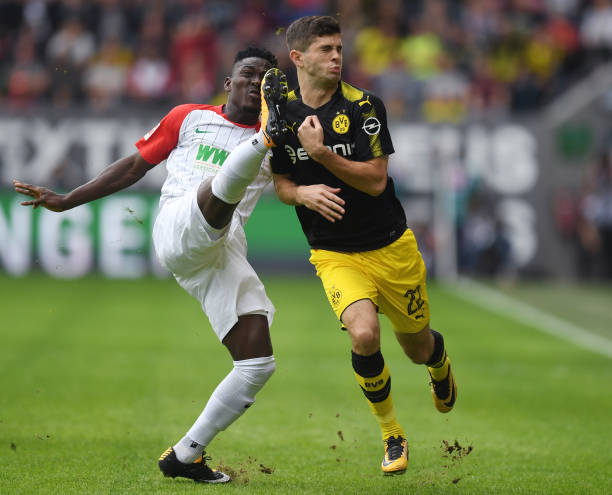 The player himself has confirmed that he's willing to consider offers after the end of next year's World Cup, despite being fairly happy at his current club.
Blessed with sensational dribbling abilities, Pulisic can cause troubles for any defence with his dazzling runs. We saw that even against Real Madrid last season, where he constantly proved to be a threat, shortly after being subbed on.
Pace is another key asset for Pulisic. While his relatively short figure helps him maintain his body shape, his pace further increases his offensive credentials.
Furthermore, despite his tender age of 19, Pulisic is one of the most matured teenage footballers on the planet. He knows how to play in a cohesive unit, which has kept Bosz believing in the young American. In addition, he also has the knack being in the right place at the right time, which eventually helps him further his goal-scoring tally.
Aside from impressing in the Bundesliga, Christian Pulisic has also managed to establish himself as a first-team regular for USMNT. He is set to play an important role his country for next year's World Cup, possibly emerge as the 'Captain America' for the US next year!
Pulisic is a precious commodity for Borussia Dortmund. The American wunderkind will, no doubt, cost a fortune, considering the market inflation these days. Although Dortmund are yet to set a particular price tag for the youngster, it will definitely exceed the £100m, if he can keep his fiery form intact throughout the season and also performs like a champion in the upcoming FIFA World Cup.
Can Arsenal land him?