In the last few years, Arsenal haven't been taken seriously by other top Premier League clubs. It seems as if the club is caught up in a time warp and have been a beacon of mediocrity in the recent years. Despite being able to keep their core players, they haven't exactly managed to move forward.
Arsenal failed to qualify for the Champions League last season and this should act as a major wake-up call for the management of a potential downward spiral. With both of Alexis Sanchez and Mesut Ozil out of contract in the next summer, Arsenal are in serious trouble of losing the reputation they have built over the years.
To limit the damage done by the departures of those two massive figures, they need to bring in a player of a similar magnitude. The player recently linked with the club is Antoine Griezmann. Alexandre Lacazette recently mentioned that he would ask the 26-year-old to join the club. A signing of someone of the stature of Antoine Griezmann would surely be a statement to other Premier League clubs.
Antoine Griezmann has done extremely well for both club and country. The Frenchman is a complete player and has some outstanding stats playing for Atletico Madrid. In his 150 appearances in all competitions, the Trequartista has managed 86 goals. After playing as a winger for Real Sociedad, he now primarily plays as a striker and is deployed with a strike partner.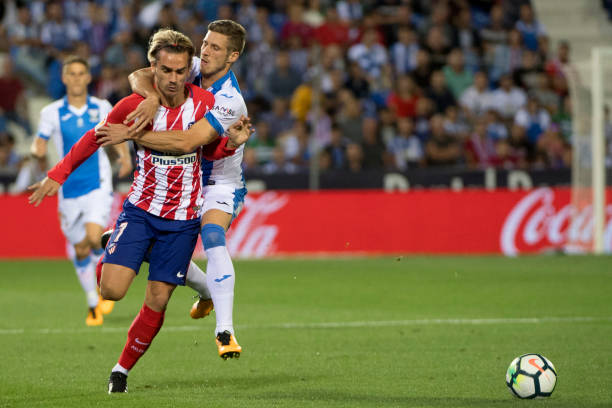 He has decent speed and skills and despite his short stature, he is quite good in the air. He has developed into a world-class forward and can add a lot to a team like Arsenal.
At Arsenal, he can perfectly slot in along with Alexandre Lacazette in the forward lineup or even be played in a familiar modern system of a single striker upfront, something which Arsene Wenger has preferred over the past two years.
Although Griezmann was heavily linked with a sensational move to Manchester United over the summer, the move didn't quite materialize with Atletico Madrid facing transfer ban which would have prevented them from finding a replacement, had the Griezmann to United deal gone through.
Arsenal now have the opportunity to pull this transfer off from under the nose of Jose Mourinho. Even though the Gunners already have Alexandre Lacazette, Danny Welbeck, and Olivier Giroud, they probably won't get another opportunity to bring in a player of this quality.  It's quite unlikely that the transfer will happen but if Arsenal do manage to pull off this coup, it will surely help them to remain in the mix of the Premier League contenders next season.