Arsenal received a massive boost in their last match in the Premier League against Everton, which they won by 5-2. The Gunners are looking to carry the impetus in their next match against Swansea City, another lowly placed team in the Premier League.
The fixture might not be a tough one for the North London club but they will be aware of their failures in their previous matches in the Premier League. They need to be cautious in their approach against the Swans and hope for another good result in their next match.
Arsenal might leave out their veteran defender Per Mertesacker, who featured in their last three matches and also scored a goal against Watford. He is set to be replaced by Rob Holding, who was left out of their last match against Everton.
The Gunners might be lining up in the following way in their match against the Welsh club this weekend.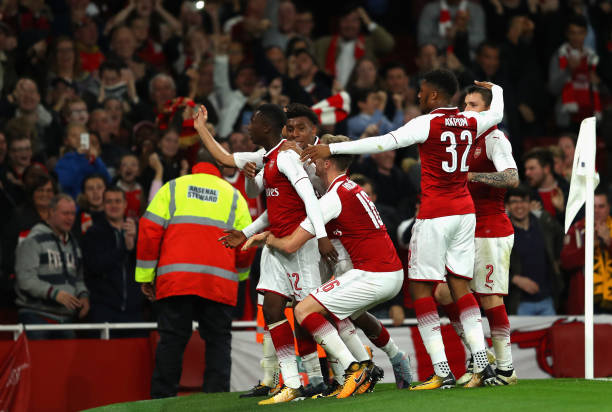 Defence
With the return of Holding to the side, the backline will definitely look much stronger than it did against Everton and is not expected to give away chances to the Swansea strikers to score against them. He will join Nacho Monreal and Laurent Koscielny in the Arsenal backline, helping them to fend off opposition attacks and keep the ball out of the danger zone.
Petr Cech, who was rested for their midweek clash against Norwich City in the Carabao Cup, is set to make a return beneath the crossbars for the Gunners.
Midfield
The Arsenal midfield has performed inconsistently this season so far, indicating the lack of quality in their side. However, the likes of Aaron Ramsey, Granit Xhaka, Hector Bellerin and Sead Kolasinac will look to ensure an easy victory for their side against the Swans, with their ability to create opportunities for the forwards to add to the scoreline.
Attack
With Alexandre Lacazette leading the line for the Gunners, Swansea will have to be careful about being gunned down by the Frenchman, who added to his goal tally in their last match against Everton. He will be supported by the German maestro Mesut Ozil, who also scored a goal in their last Premier League outing.
However, Alexis Sanchez might be rested against the Swans. Theo Walcott, who dished out a commendable performance against Norwich during their Carabao Cup match, might be starting in the first eleven for the North London club.
Here is how they might line up: