Liverpool and Spurs are in an open transfer rebellion over 17-year-old Werder Bremen wunderkind David Philipp. The young Bremen starlet has impressed a lot in the youth ranks this season and has been remarkable in basically every youth division in Germany so far.
Sky Germany claim that both the Premier League clubs are very interested in the services of the Bremen youngster whose contract runs out next summer. Whether or not Philipp has a future with Werder Bremen remains to be seen but recent comments from Bremen academy director Bjorn Schierenbeck possibly signals a potential move elsewhere for the 17-year-old.
"I wouldn't want to rule out the interest in David from the English clubs. But I don't know exactly how firm it is. We would be very eager to continue working together with David.
"We have already held talks with him, and explained what his future career with Werder can look like." – he said.
Normally a central attacking midfielder, Philipp has the right kind of sense to move forward and be more productive than most of his teammates. He impressed in the youth leagues last season, scoring a remarkable 18 goals and providing 21 assists for Werder's U-18 side.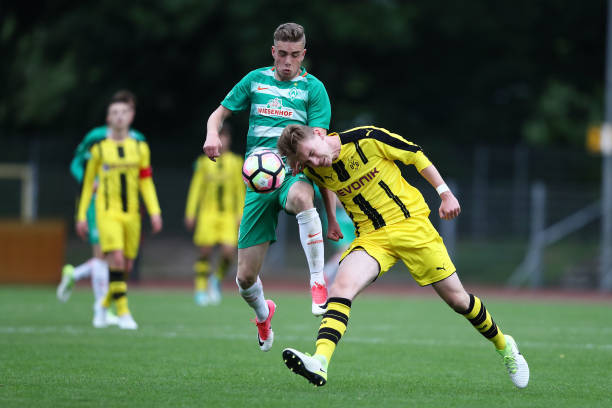 Philipp has been making strong strides in his way up to the top. He is soon expected to play a vital role for the U-19 squad, thanks to his blistering performances. He has already scored two goals in six matches this season, whilst providing four assists in the process. Looking at his usual characteristics as a footballer, he can easily be compared to the likes of Mario Gotze or Mesut Ozil.
It's only a matter of time before David Philipp sees himself in the Bremen reserves if he can continue his development nose-dive. However, a move to Premier League will await new challenges for the young midfielder.
Jurgen Klopp knows the Bundesliga better than any other current PL managers and he is also renowned for his tendency to give younger players a chance to shine at the top level. While Mauricio Pochettino has also been quite impressive in his ability to nurture young midfielders.
Christian Eriksen, Heung-Min Son, and Dele Alli are a few prime examples of his work since he took charge of the Lilywhites back in 2014. Spurs seem very interested in the player but can he be a hit at in England?