According to reports, Tottenham Hotspur will be going in again for Barcelona midfielder Andre Gomes who has had a rather underwhelming time at the Camp Nou. The 24-year-old has failed miserably for Barcelona and was criticised for his indecisiveness and lack of conviction.
Gomes didn't even come close to competing against the likes of Andres Iniesta and Ivan Rakitic. He would want to save his place in the Portugal squad despite having 26 caps and perhaps a move away from Barcelona could help rejuvenate his career again after his £29.3m move from Valencia.
Tottenham failed in their last-ditch effort to sign Gomes in the summer on the deadline day. They may manage to finally bring him in January, helped by the fact that the Portuguese would probably be receptive to a move after Paulinho's arrival.
Spurs have options in the defensive midfield and central midfield in Eric Dier, Victory Wanyama, and Moussa Dembele, but none of them has the ability to really pull the strings from deep, something Andre Gomes could offer. Dembele can certainly help in carrying the ball forward but his sideways passing often undoes all the good work. Andre Gomes is a little different than the Belgian and could orchestrate and dictate the play from the deep.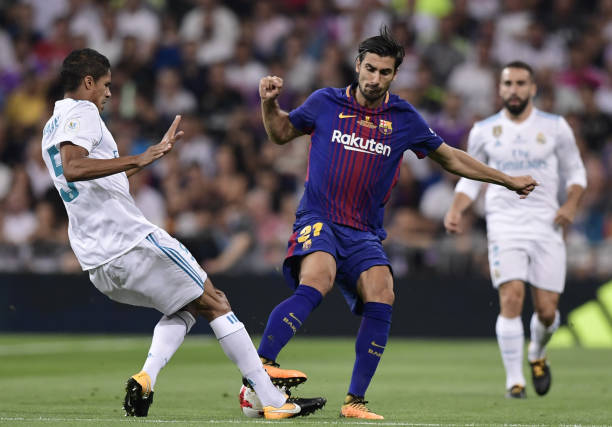 None of the players currently offer a swift progression with a long ball. Gomes could offer just that and make Tottenham's attack a little more flexible.That creativity from deep is certainly what Tottenham lack and it could turn out to be one of the key quality which may help unlock deep-lying defences. If he discovers his old form that earned him a lot of praise during his time for Benfica and Valencia, Tottenham will have some player on their hands.
Gomes also has a knack for finding a lot of decisive infield passes and could end up being the creative link which mends all the players together. Despite displaying a rather one-dimensional game in a Barcelona shirt, Gomes showed that he actually has a very good vision for finding key passes and can dribble past player when he played for Valencia.
With Barcelona having numerous options in the midfield, they are likely to offload Gomes and Spurs would have to pay as little as £20m for his services, a lot less than Barcelona initially paid for him.
If he discovers his old form, it could turn out to be one of the key signings for Tottenham.It remains to be seen if Pochettino goes for Gomes again in the January transfer window again with Barkley available for a cut-price given the fact that the 23-year-old would have only six months left on his contract. Do you think Gomes is an option Spurs should pursue?