Wembley has not been kind to Tottenham Hotspur and yet they have to go ahead by playing on it with the international stadium being their temporary home. The latest visitors were Paul Clement's Swansea City looking to grind out anything that would help them on the road and that's exactly what they did. A resilient Swansea kept a firm grip on the tempo and Tottenham's attacks all evening and churned out a huge draw. Pochettino's men couldn't create clear cut chances like they usually do at all and it was another disappointing draw. Here's how the Lilywhites have been rated:-
GK: Hugo Lloris – 6/10
Involved in passing and clearing the ball in the first half and was reduced to a spectator in the second with the visitors not even moving forward from their own half.
RWB: Kieran Trippier – 5.5/10
Was kept in check by Olsson in the first half and then he shifted to the left flank in the second. Couldn't make an impact from either side and he was also unlucky as his cracking shot in the dying minutes flew sideways.
CB: Toby Alderweireld – 6/10
Tidy in defence and went forward much more than anticipated trying to contribute something to the attack.
CB: Davinson Sanchez – 7/10
Had the most stuff to do amongst the three centre-backs and he did it brilliantly. His composure, strength, discipline was simply impressive!
CB: Jan Vertonghen – 6/10
Swift while drifting through with the ball but his shots were really awful today. Should have done justice to the few balls that fell invitingly to his feet.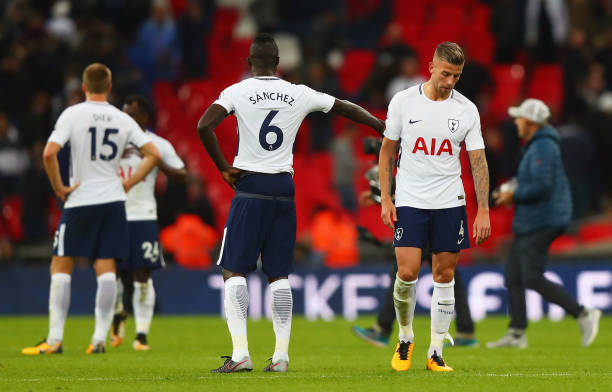 LWB: Heung Son-Min – 6/10
Looked decent and not as bright as he was during the midweek. Ran out of energy in the second half and was replaced.
CM: Eric Dier – 6/10
Looked really good on the ball and helped Tottenham regain it several times but he must improve on his end product and lobbed passes which were often inaccurate near the final third.
CM: Moussa Sissoko – 6/10
Put in a good effort and shifted to right wingback after Pochettino's instructions. Looks like he's slowly putting his head down and working for the team. He's a great utility player.
LF: Dele Alli – 3/10
Missed a great chance when Eriksen crossed in and he looked jaded as well as rusty. Couldn't control the ball on some occasions and didn't make a few runs as well.
RF : Christian Eriksen – 6/10
Looked really underwhelming with the amount of set-pieces he delivered but he should have got an assist if Alli had buried the top ball he provided. Very decent and ordinary today. Swansea gave him no space to operate on.
FW: Harry Kane – 6/10
Got really unlucky today. His free-kick was well saved by Fabianski initially and he got into a car to feel.
Substitutions:-
RWB: Serge Aurier – 6.5/10
Tottenham got some fresh perspective with him marching down the right and Olsson had his work cut out. Unlucky to have not had a penalty too.
ST: Fernando Llorente – 5.5/10
Couldn't do much as his teammates didn't deliver the ball properly and it was wasteful overall.