APOEL Nicosia will rue their missed chances in a game which Tottenham Hotspur won rather comfortably in the end with a hat-trick from Harry Kane. Even though Tottenham got there in the end with a commanding scoreline, it doesn't really encapsulate how hard a work, the club from Cyprus, made it for the North London outfit.
Despite a few really good chances for APOEL in the beginning of the game, Tottenham were the one to open the scoring through Kane in the 39th minute. Kane again got on the scoresheet scoring two really good goals in the 62nd and 67th minute. Below are Tottenham Hotspur individual player ratings:
Hugo Lloris:
Rating:7.5
The Frenchman made a mistake in the first half which could have turned out to be costly but the 30-year-old more than made up for it with three fantastic saves in the second half.
Serge Aurier:
Rating:6
Aurier had some really good duels with Efstathios Aloneftis, many of which the latter won. He was subbed off in the 57th minute for Fernando Llorente.
Toby Alderweireld:
Rating:7.5
Alderweireld missed a header which could have proved really costly, although the Belgian did make some vital interceptions and also provided Harry Kane with the assist for the first goal.
Davinson Sanchez:
Rating:7.5
Sanchez was excellent and made some vital aerial clearances in addition to making some excellent interceptions. He dived into one rather reckless challenge but an offside call saved him.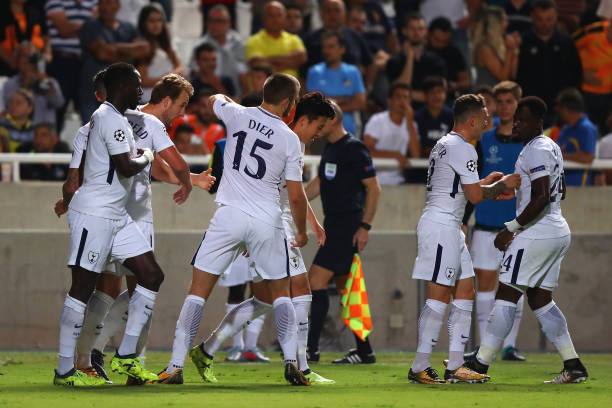 Ben Davies:
Rating:7.5
Davies too had a decent game, making some good clearances and contributing offensively by making a few forward runs as well.
Kieran Trippier:
Rating:7.5
Trippier had an excellent game offensively, providing an excellent cross for Kane's third goal. He also gave a really good cross to Son which could have been a certain goal, had the South Korean positioned himself properly.
Eric Dier:
Rating:7
Dier made some good tackles but was often slow to close down APOEL's midfielders.
Harry Winks:
Rating:7.5
Winks spread out the ball really well in the first half and often dribbled Tottenham out of trouble.
Moussa Sissoko:
Rating:7
Sissoko was quite one-dimensional in the first half but he made a lot of runs and gave Kane, the assist for the second goal.
Heung Min Son:
Rating:5
Son was really wasteful of his opportunities and missed a simple header in the early minutes of the game. His loose pass before the end of the first half was intercepted and denied Kane an easy opportunity.
Harry Kane:
Rating:9
Kane was on fire as he got his Champions League hat-trick with three wonderful goals.
Substitutes:
Fernando Llorente:
Rating:6.5
Llorente held the ball well to allow the other teammates to advance in the midfield.
Georges Kevin N'koudou:
Rating:6.5
Nkoudou often tried to do too much on his own, often to his teammates' frustration.
Anthony Georgiou:
Rating: N/A
Georgiou played too little to warrant a rating.