Joaquin Ardaiz is one of the latest attacking prospects coming out South America. The 18 year old Uruguayan, being termed as the 'Little Cavani' back in his hometown, Danubio. The attacker, currently playing at Belgian club Royal Antwerp, is now a subject of some serious interest from big clubs all around Europe. Manchester City haven't been shy about showing engrossment either, as the Manchester giants are looking keen to further improve their youth setup, especially after the departure of the academy poster-boy Jadon Sancho, to Borussia Dortmund.
Etihad scouts were tracking the progress of the Danubio teen, since his time back in Uruguay. The highly rated striker was raised in Salto, like his compatriot Luis Suarez and is a regular for the Uruguayan youth setup. In 23 matches for the Uruguay U-20, the striker has managed to score five goals. Here's a brief SWOT report on the young teenage sensation.
Strengths
The English and Spanish press took it upon themselves to Ardaiz as the next Suarez/Cavani and for a player to drawn comparison to the aforementioned winger, certainly, hints that he is a physically strong attacker. Indeed, physicality and athleticism are one of his biggest assets as a striker. His work rate as a number is simply ridiculous – that is combined with his tall figure. For his age, Ardaiz is very strong and agile, and his stature is remarkable.
His back to goal feature is already very good, and he is fairly comfortable in keeping hold off the ball using his physicality. Ardaiz is also very good with the ball at his feet as well. A striker who plays with a certain swagger, Ardaiz, can be devastating for the opposing defence with his neat controls, and his tendency spin around the defender. His all-round performance for Uruguay youth setup has heaped a lot of praise for the youngster.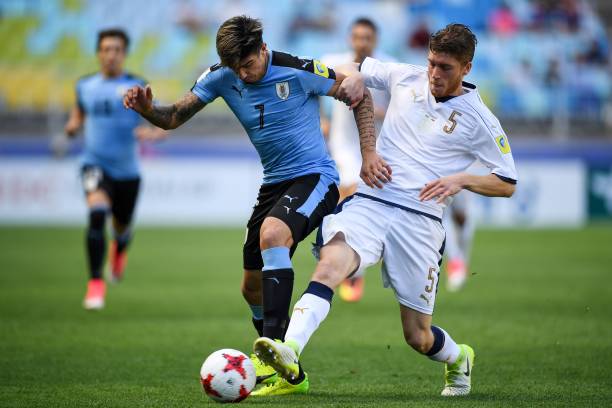 Weaknesses
He is far too over-reliant on his left foot. He tries his best to get the ball back to left foot before making any further progress with the ball, this requires an extra amount of time and space, which he may not have in the higher leagues. It definitely makes him less flexible in the offensive areas.
One of the features that needs significant monitoring is his aggression. He is largely known for his aggressive attitude. Firstly, his style of play attracts a lot of rough defensive attraction and secondly, he can be someone who might lose his temper during the match, as the Liverpool youth game had shown last year.
Opportunities
A place in the Man City youth academy is all he could possibly hope for. He has done so well in his stints at various Uruguayan outfits, and it's time he needs to make a move to the next level. The amazing sporting fantasies which can be found inside the Manchester City youth department has propelled the club in terms of its youth development, and there's no doubt as to why it can't help Joaquin Ardaiz as well.
Threats
Of course, there is always a danger in investing in a player with so little exposure in European football but as far as Man City is concerned, it really doesn't hurt to sign the highly rated Uruguayan. However, they will face stiff competition from, well, everyone! Juventus, Barcelona, Real Madrid, Chelsea, Liverpool are all vying for his signature and it would be a miracle if the Sky Blues can sign the rising star of Uruguay.