Chelsea and Manchester City have opened their radars for 16-year-old Italian teenage sensation Pietro Pellegri of Genoa. Pellegri, who reduced his dad, Marco, the assistant manager of Genoa, to tears when he scored a brace on his first professional start against Lazio on the weekend. He also became the youngest goal-scorer in the Serie A history, aged just 16.
His fiery performances have not gone unnoticed as Premier League clubs in Chelsea and Man City have already started making plans for the 16-year-old, along with Serie A giants Inter. Here's a SWOT report on the eye-catching teenage sensation from Genoa.
Strengths
Pellegri is a tall striker. Even at the age of just 16, the strikers stands at a whopping six feet three inches, which evidently makes him an intimidating presence in the final third. He is physically strong and his tall figure helps him in aerial duels inside the box. Pellegri is truly a monster when it comes to the physical-department of the game.
Furthermore, Pellegri is no doubt a young bloomer, with the player also being the youngster to make his Serie A debut at the age of 15 years and 280 days, at the end of last season against Roma.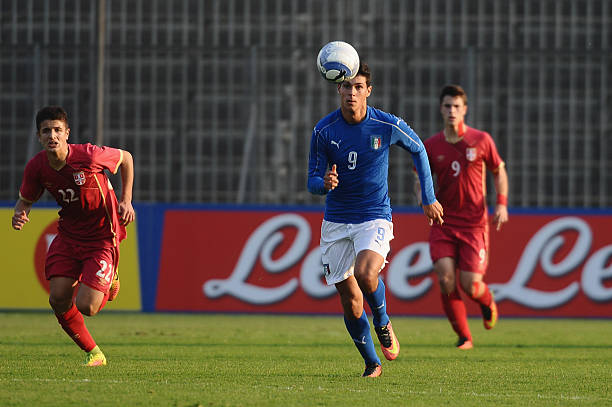 He is a potent striker, who plays on the shoulders of the last defender, always sniffing at a chance to score. The two goals against Lazio showed his willingness to make runs into the channel. More or less a reminiscent of Robert Lewandowski, Pellegri knows how to finish and he has the potential to succeed in the rigours of the Premier League.
Weaknesses
Experience is definitely one of the weak points. At such a young age, Pellegri is largely inexperienced in the top flight football. Despite bagging loads of potential, the striker has only featured in four professional games in his career so far, so it might be a little too quick judge his credentials right now.
He should stay at Genoa for a few more seasons, to get used to the top flight football, and also gain some valuable experience. A move elsewhere will only disrupt the flow of the Genoa youngster.
Opportunities
As mentioned earlier, Pietro Pellegri should stay at Genoa for a few more years. The Grifone can offer him the valuable game-time he seeks. Moving to bigger clubs will be a major step backwards in his initial progress as a top-flight footballer.
Threats
Speaking of a possible departure from Genoa, the youngster loves his club no end. He has been a fan of the club since his childhood so it will be a difficult task to lure him away from the Stadio Luigi Ferrari. Even a move to fellow Seria A club seems very impractical for the youngster at the moment, let alone moving to the Premier League.