Manchester United are not short of world-class midfielders at the moment, and their performance is clearly visible on the pitch, following a stupendous start to the season. However, head coach Jose Mourinho is seemingly interested in bringing in some more midfield talent. And latest reports from Spanish news outlet, Don Balon suggests, that the Red Devils are keen on signing Barcelona midfielder Andre Gomes.
The Barcelona midfield outcast, who has terribly failed to live up to his billing after joining the Spanish giants' last summer. Jose Mourinho believes that he can resurrect the career of Andre Gomes at Manchester United. Gomes was expected to leave Barcelona this summer but the midfielder ultimately ended up staying at the Nou Camp.
Therefore, Manchester United could make strides in the pursuit of this highly rated Portuguese International. In fact, Real Madrid boss Florentino Perez has reportedly urged Mourinho to sign the 24-year-old, Don Balon believes.
But should they really go after the Barcelona midfielder?
Life in Catalonia was always going to be tough for Andre Gomes, who completely failed to outshine the likes of Ivan Rakitic, Andres Iniesta, and Sergio Busquets. Even Denis Suarez or Sergi Roberto were rated higher than the former Valencia man, by many Barcelona faithful.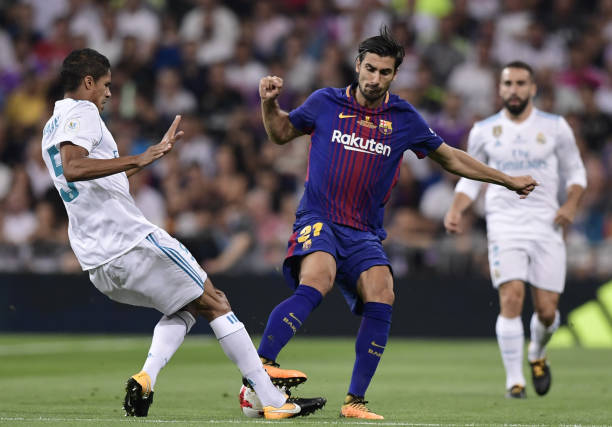 But can Mourinho coax the best out of the Barcelona midfielder? Well, despite Perez's insistence, it seems very unlikely that Andre Gomes can find success in the Premier League. His performances on the field have clearly shown that he's not clearly adept in high-octane situations. He has a very poor understanding of the game, which eventually effects his performance on the field.
Although his calmness and skillset with the ball are exceptional, even in tight spaces, he doesn't have the urgency or directness as his teammates, which doesn't bode well with Jose Mourinho's system. He is not someone who can quickly change the aura of the game. As I like to call him, as just another version of Renato Sanches, in many ways, it is true, considering his lack of urgency and at times, futility with the ball. He can be caught in possession, thanks to his relatively slow nature of play.
On the top of that, it's not that Andre Gomes will get playing time straight away at Manchester United. It's highly unexpected that he'll be the first choice starter. Paul Pogba, Nemanja Matic boast a much better pedigree compared to the Portuguese while Ander Herrera, Marouane Fellaini, and Michael Carrick have all experienced a strong start to the season. Therefore, Andre Gomes could prove to be a little too redundant signing for the Red Devils.