With Michael Carrick set for his final campaign at the Old Trafford, Manchester United might be a little light in the midfield department. Jose Mourinho will be looking at the options for the next summer and the name of Radja Nainggolan has again been tossed into the picture with the Portuguese manager reportedly interested in the 29-year-old. Mourinho is also reported to have sent scouts for AS Roma's Champions League goalless draw against Atletico Madrid recently.
Manchester United were successful in bringing Nemanja Matic, which makes the arrival of another defensive midfielder quite debatable. Some would rather call yet another arrival quite unwarranted but the player we are talking about here has the ability to offer what modern football demands and with the way the role of a midfielder has evolved, Nainggolan might be the perfect fit for Manchester United.
The Belgian can add quality and depth at Manchester United and can easily vie for the starting spot with Nemanja Matic since he would offer much more going forward than Matic does.
Not only is his ball recovering ability commendable but also is his ability to maintain the same intensity throughout the game. Although he is often viewed as a defensive midfielder, Radja Naingollan is so much more than a conventional holding midfielder. For someone who does so much defensive work, Nainggolan's stats going forward are certainly astounding.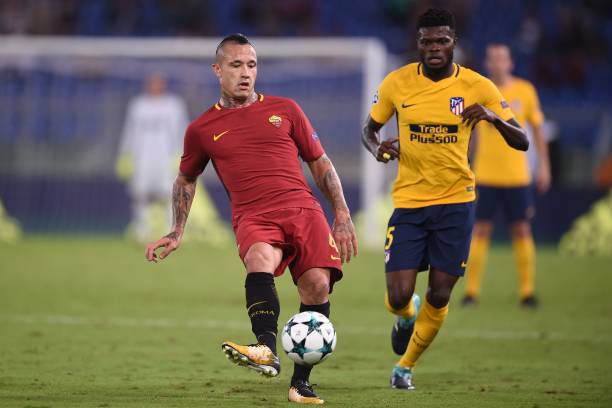 The Belgian got 11 goals in the last Italian Serie A season. Here is a comparison of offensive stats between him and two really successful players in the Premier League, N'Golo Kante, and Victor Wanyama. These stats are a testament to how much offensively influential Radja Nainggolan is, as compared to other defensive midfielders who are relatively less dynamic.
The stats are an indication of what the Belgian can bring to the table for any top club in the Premier League. Thus he is much more than a typical shielder of the back four and has certainly shown that he can create chances and dribble past opposition's midfield, apart from being an efficient passer of the ball.
He created 68 chances for Roma in Seria A last season. His accuracy from distance is also exceptional and with an impressive 58 shots from outside box, he offers way more as compared to his Premier League counterparts.
With numerous top competitions to compete in, it makes sense to have enough quality midfielders to rotate and with his versatility to play anywhere across the midfield line, he can be accommodated with any of the current United midfield players. With a number of top clubs including Chelsea interested in acquiring the services of the midfielder, Manchester United will have to move quickly.