After successfully fending off Barcelona's interest in star player Philipe Coutinho, Liverpool still faces significant threats of losing their Brazilian playmaker even before the end of the season. Manchester United are the latest club to seek the services of the 25-year-old, if reports from Spanish news outlet, Don Balon are to believed.
According to the story, Jose Mourinho wants to bring in more competition within their ranks at Manchester United and alongside Raphael Varane and Antoine Griezmann, Coutinho could be a top target for the Red Devils in the winter transfer window.
The transfer could definitely create a lot of stir as well as hatred on Coutinho from the Liverpool fans. However, a move to Manchester United, in all fairness, will only be an upgrade for the Brazilian International. The Red Devils' stocks is on the rise, and it's about time they make a strong challenge in the UEFA Champions League in the coming years.
Coutinho can slot in as an attacking midfielder with Paul Pogba and either of Michael Carrick/Ander Herrera in a deeper role. His attacking influence powered by the pacy wingers of Manchester United will definitely strengthen their attacking prowess in the final third of the pitch.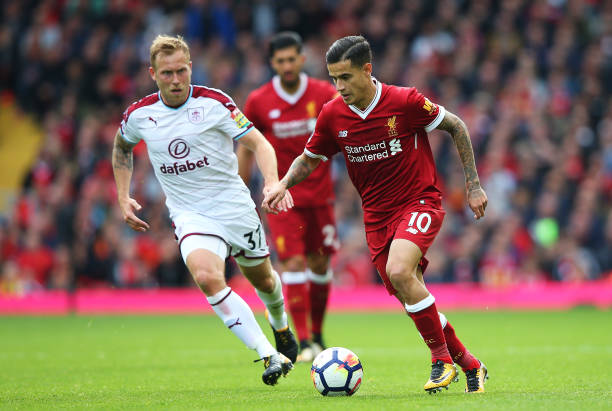 Furthermore, if Jose can somehow combine Philipe Coutinho and Henrikh Mkhitaryan into one lineup, it will certainly be a feast to watch these two extremely talented playmakers, playing alongside each other.
However, it's still kind of naive to expect Coutinho to move to their fierce rivals. The 25-year-old received a warm reception from the Liverpool fans when he appeared on the pitch against Burnley on the weekend. After the game, Coutinho had high praises for his current club whilst appreciating the support from the fans.
"The whole world knows what happened," Coutinho said in his first interview since the transfer saga. "From the first moment I played here and in the last game, I was very well received — like I always have been for the past four or five years.
"The respect I have for them [the fans] and the respect they have for me appears to be maintained. What I need to do is to work hard and to always do my best to help the team. – he said, as per ESPN.
It will be a great prospect for the club if he does plan to stick around with the Reds for long although the interest from Barcelona isn't going to fade away so easily. So a move to Manchester and the story covering it can be nothing more than making up the pages.