According to reports from Manchester Evening News, Manchester United have joined the race to sign Santos midfielder Lucas Lima. The 27-year-old is high up on the list for many of Europe's top clubs. He is currently in his final year of his Santos contract and his agent has already hinted a possible move to Europe next summer.
In fact, the Santos midfielder was close to signing for FC Barcelona this summer. The Blaugrana were thought to have a five-year deal in place for the Brazilian sensation but the transfer broke down amidst the record signing of Ousmane Dembele and Lima's fellow compatriot Paulinho. In light of this failed transfer talks, many other possible suitors for Lima has emerged in recent weeks, with Manchester United attracting the most glossy attention for the 27-year-old.
Lucas Lima is regarded as one of the top talents in his role at Brazil. He is a crafty midfielder who drives the Santos midfield with his creative flair. Signed from Internacional in 2012, Lima has successfully established himself as one of the top midfielders in Brazil and continues to awe the regular followers of the Brazilian league.
Lima can be compared to Manchester United's main playmaker Henrikh Mkhitaryan. He mainly focuses on using his creative flair to create chances for his team, ultimately leading to multiple opportunities for the strikers to score. Like Lukaku, Santos' veteran striker Ricardo Oliviera has been the chief beneficiary of Lima's chance creation in midfield.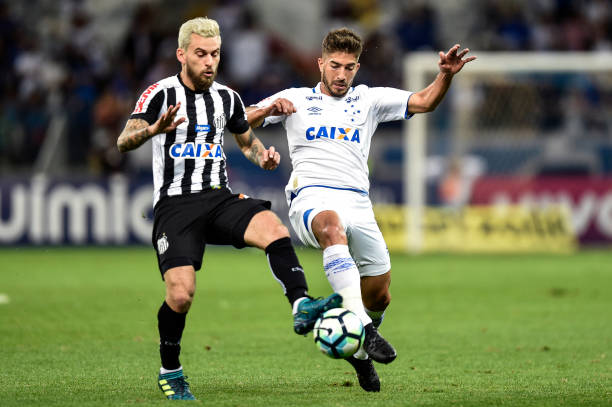 He can, well and truly strengthen Manchester United's depth, especially on the creative side of the things. He'll be an upgrade to Jesse Lingard and can epitomize Jose's Plan B in case Mkhitaryan struggles with lack of form.
However, there are some significant drawbacks of Lima's possible departure to Manchester United. The midfielder suffered a series of niggles during his time at Santos, ultimately hindering his progress in the process.
The injuries have shown up frequently in the past couple of season, and it may disrupt his flow in the future as well. Then, there is the age factor. At 27, Lucas Lima is no young buck. And looking at the current Man United roster, one would think that the Red Devils need to invest in more youth rather than well-grown players.
But then again, there are no doubts over his credentials as a top midfielder. And to top it off, he will be available for free next season so either way, it will be a win-win situation for the Manchester giants, if they manage to sign him, of course.