Liverpool have joined the race to sign Lazio centre back Stefan de Vrij, per Italian news portal, Calcio Mercato. The Reds could pose a serious offer for De Vrij next summer. However, getting him won't be that easy as Juventus and Inter are also vying for his signature next summer.
Stefan de Vrij has been an important figure in the Lazio defence ever since he joined the Biancocelesti after the 2014 World Cup. Fast forward to 2017, the 25-year-old has evolved to be one of Netherland's top defenders in recent years. Therefore, there's no surprise over the series of interest that are coming in, from top clubs around Europe.
Even though Juventus or Inter could prove to be the better suitor for de Vrij, if he opts to stay in Italy, Liverpool could also be a great destination for the Lazio defender.
Over the years, not only did Liverpool lacked the presence of quality defenders on their roster, but they've also failed to find someone who could facilitate the backline like Stefan de Vrij can. The 25-year-old epitomizes what a modern day centre back stands for. Great composure on the ball, de Vrij's ball distribution is what makes him so important for both club and country.
Many scouts had filed impressive reports after watching him in action at De Koup. Mostly, because of his abilities on and off the ball. He is very good at reading the game, which helps him make last ditch interceptions to keep the opposition out. He doesn't rely much on his physicality but instead, opts for his ability to time his tackles perfectly. He is as classy as the defenders can possibly get these days. He is also a trustworthy figure at the backline, someone whom you can always rely upon, with or without the ball.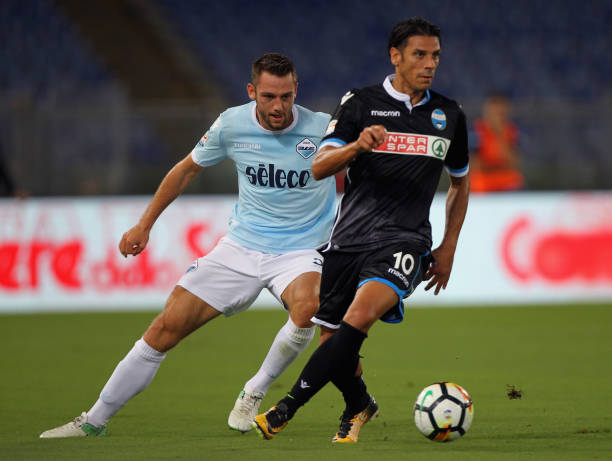 In the recent game against Manchester City, where the Reds lost 5:0, Liverpool's lack of a quality defender was more than evident. Joel Matip was decent but Ragnar Klavan's lack of defensive character left them open in front of the sharp attacking Man City players. Dejan Lovren has been decent for Jurgen Klopp's men in the past few years, but it's time they need to upgrade their back line if they are to stake a strong shot at the title anytime soon.
Made no mistake, Liverpool's attacking line is one of the best in the Premier League but their defence is often the reason why they fail to perform on a consistent basis. And it's beyond doubt that the Reds do need a solid centre back sooner rather than later, and better yet, it be Stefan de Vrij.
Not only can the Dutchman, re-install Liverpool's defensive superiority but could also be a pivotal figure in the club's build up game. In his days with Dortmund, Jurgen Klopp's famous defensive partnership of Never Subotic and Mats Hummels, two great ball-playing centre backs were a massive hit in the Bundesliga and it only seems obvious that he finally needs to find a similar sort of defensive partnership with Liverpool.
De Vrij could be available for a free transfer next summer as his contract runs out at the end of this season while talks with Lazio over a contract extension have also stalled, meaning the Merseyside club could in for yet another transfer battle next summer.