Leon Goretzka is one of the most talked about players in the German Bundesliga at the moment. The Schalke midfielder has been in fine form this season, helping his side to win three of their four matches so far. However, his future at the club is highly insecure, as many top clubs around Europe seek the services of the 22-year-old.
Arsenal is known to be a big admirer of the German midfielder, and coach Arsene Wenger was looking to bring him to the Emirates this summer. Although he's currently in the final year of his Schalke contract, German publication, kicker reports that the Royal Blues are willing to offer him a ludicrous contract offer of €200k per week, which will make him the highest earner at Schalke but most importantly, provide him with a reason to stay in his boyhood club.
The Gunners face a huge threat in losing out to another top transfer target but should the Londoners go all out for the German midfielder?
Leon Goretzka is highly regarded as one of the best midfield talents in the Bundesliga, if not the best. The 22-year-old's excellent form in the FIFA Confederations Cup, followed by a strong start to the season, has made him a fan-favourite at Gelsenkirchen this season.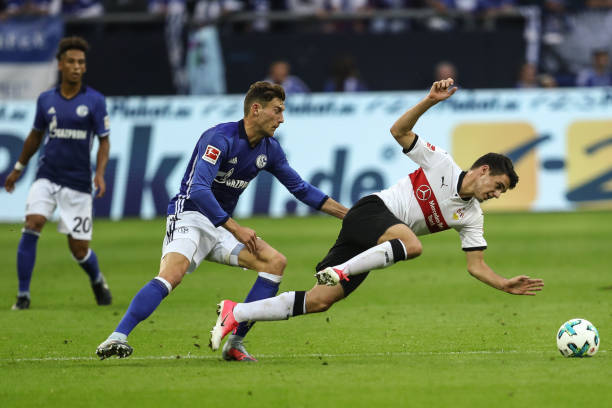 A tall midfielder, with a 'never die' attitude, Goretzka serves as the number eight for Schalke in the midfield, partnering alongside former Spurs midfielder Nabil Bentaleb. His tall-figure can be, at times, quite intimidating for the opposition. His experience in a double pivot system will suit him well with Arsenal while he's also capable of playing as a holding midfielder if necessary.
Despite his age, Goretzka is highly experienced in commanding the midfield, with his skill and tenacity. Furthermore, he can also be a menace from long range efforts, thus he's perfectly suited to the conditions of the Premier League.
Goretzka has the exposure of playing at the top level for quite some time now, which will, no doubt, help him succeed in any league in the world. Therefore, Arsenal is better advised not to lose the trail of their German midfield target.
But most importantly, Arsenal need to act quick, not just because of the new contract offer from Schalke, but also because of the fact that he has already made a strong case by playing in the World Cup next summer and it's only time before the other top dogs come to lure away the talented midfielder even before Arsenal can even have a sniff at him.