Crystal Palace went into this game dead bottom of the Premier League. They have zero points and are the only team not to score in the Premier League this season. However, there was one positive going into this game. That was that they beat Premier League Huddersfield Town 1-0 in the League Cup in midweek. So, new boss Roy Hodgson was hoping to take that momentum into what looked from the start a very hard game.
Crystal Palace put in a solid performance in the first half. They looked decent defensively and they tried very hard to involve Benteke in the game. However, a moment of brilliance from City saw them 1-0 down at halftime.
Any good defensive work Palace put in the first half seemed to disappear in the second. They fell apart once again and are still yet to score. Here are the Crystal Palace player ratings from their defeat to Manchester City.
Wayne Hennessey: 5.5/10
Hennessey made a crucial save earlier on to stop Fernandinho. However, he did not know too much about it. He then made a better save a few minutes later to deny Sterling.
Hennessey was maybe beaten a bit too easily for Manchester City's first. He couldn't do a lot to stop Manchester City's second. But moments later he pushed the ball straight to Sterling who shot wide. Some sloppy keeping from the Welshman.
Hennessey was very much outclassed today but the City attack.
Timothy Fosu-Mensah: 5/10
Put in a good block early on to stop Aguero getting through. He did the same on 36 minutes prevent Aguero getting a shot on goal. Sane switched to the left-hand side for City in the second half. Mensah struggled to deal with him. This was evident for City's second when Sane left Mensah for dead.
Fosu-Mensah then nearly gave a penalty away on 74 minutes by grabbing Sane. He really struggled to deal with Sane when he switched to the left. It will be a day to forget for the Dutchman.
Mamadou Sakho: 5.5/10
A shaky start for the defender as his defensive clearance nearly went into his own net. He struggled for much of the game and should have been marking Aguero tighter for his goal.
He made a few decent clearances through the game. But he too was overrun by Manchester City's attack.
Scott Dann: 5/10
Dann put in a good block on 38 minutes to make sure a Silva cut back never reached any City players.
Dann could have done better for City's first when Sane lifted it easily over his head. Overall Dann was well and truly overrun by City's attack today. Especially Sterling who got into the box several times and was barely picked up allowing him to score two.
 Patrick Van Aanholt: 5.5/10
The defender got a crucial touch on a De Bruyne cross in the 21st minute to prevent Sterling getting on the end of it. However, he failed to track Sterling for both of his goals today. But when Sterling went off Van Aanholt kept Bernardo Silva quiet
Yohan Cabaye: 6/10
Cabaye had a quiet first 45. He spent a lot of it dropping deep to try and prevent City scoring. This worked ok for a while. But Silva was too much to handle for Cabaye and he created several chances in the first half. Cabaye was then subbed off early in the second half.
Luka Milivojevic: 5/10
Milivojevic made several good tackles/ block in the first 45. But De Bruyne and Silva still controlled a lot of the game.
He very much went missing in the second half and Silva and De Bruyne ran the show for City.
Andros Townsend: 5.5/10
Townsend struggled to get going in the first half. This was largely because either Mendy or Fernandinho kept fouling him.
Townsend struggled again in the second half. It was the substitute Danilo that was fouling him this half.
Jeffery Schlupp: 5/10
Schlupp had a quiet first half playing in a much more advanced role than usual. He created very little for Palace in the first half. This was the same story in the second half as well.
Ruben Loftus-Cheek: 6.5/10
Loftus- Cheek looked very bright earlier on. He took it past Stones and then hit a great strike which hit the post on 18 minutes.
Loftus-Cheek had another good chance on 27 minutes inside the City box which he should have done better with.
Loftus-Cheek was probably Palace's brightest player today. Not that it was hard to earn that title today.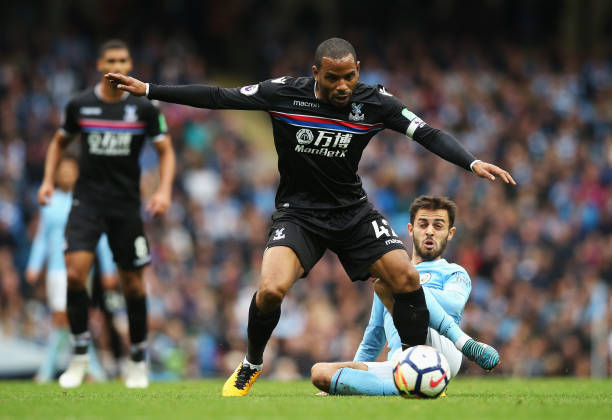 Christian Benteke: 5.5/10
Benteke had a decent start to the game. He won most of the long balls Palace were playing to him. However, he never got a true chance in the first 45. He was then subbed off with an injury on 72 minutes. Another quiet performance from the goalless striker.
Substitutes
Jason Puncheon: 5/10 (56minutes)
Puncheon did very little when he came on except put in a good cross moments after he came on. A very ineffective sub.
Bakary Sakho: 4/10 (72 minutes)
Sakho was even more useless than Benteke when he replaced him today. If Benteke is out for a while, Palace will struggle even more, if that is possible.