Crystal Palace have re-energised their season with a commanding win over Huddersfield Town in the Carabao Cup. Riding on the shoulder of Bakary Sako, the Eagles have turned the tide in their favour and will be looking to enforce this in the Premier League too.
Palace became the first team who lost their all five matches in the Premier League without even scoring a goal and looking at their fixtures, their winless run could be extended. They are scheduled to face Manchester City, Manchester United and Chelsea and Roy Hodgson should be thankful to his players as the win came just in the right moment.
The Eagles can now take on City with a much different mindset having won their first game in the Hodgson era. Pep Guardiola's side have been on an excellent run and have already shown their exuberant attacking display by netting 15 goals in the last three matches in all competition.
Chelsea have not been that ruthless butthe Red Devils have shown the same kind of cold-blooded attitude in the English top flight so far. The Eagles need some miraculous effort to see out this match and they do have the assets to survive these games.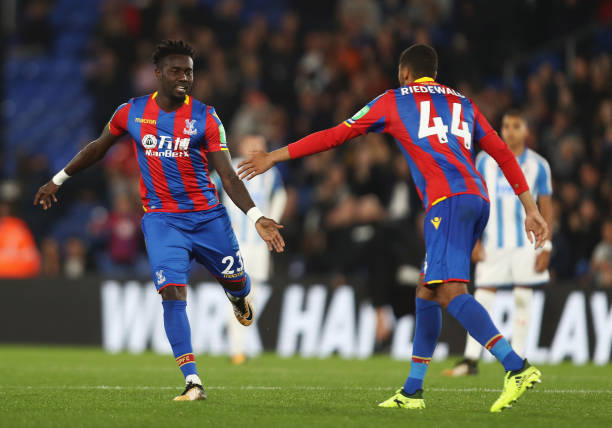 In the last season, there was a sense of positivity at the Selhurst Park and Sam Allardyce used that pretty brilliantly to steer the Eagles through the rough patches. There is every chance they can use the same to cause a few upsets in the upcoming weeks.
Manchester City
The toughest match so far for the Eagles. With the likes of Sergio Aguero, Bernardo Silva, Gabriel Jesus, Kevin De Bruyne and David Silva in the side one don't need any introduction about them. Mamadou Sakho and James Tomkins were pretty solid at the back against the Terriers and if Palace are to snatch any points it is them who need to be in their best form to deny the City attackers from scoring.
Added to that, the defence has been a weak link for the Sky Blues so Palace are likely to unleash Benteke up ahead to fancy his chances.
Manchester United
The unavailability of Paul Pogba could be a big factor given his influence so far. The French international is out for a long period which could provide some momentum to the Eagles. United did have some nervy moments as they failed to resist Palace's physical gameplay on a number of times in the past and Hodgson would like to repeat it this time.
Chelsea
Burnley have already shown the path that the defending champions can be beaten and Palace should follow their path. The Blues played a goalless draw with Arsenal in the last match and Palace should use their instincts to have any kind of positive results from this match.