Chelsea have started their title defence in the new season in disastrous fashion, having lost their very first match in the campaign against Burnley by 3-2. However, they have recovered well since then and have won all their matches after that to affirm their place as one of the top contenders to win the Premier League once against this season.
The Blues have brought a number of players into their side since the start of the summer transfer window and are looking forward to bringing in more top class performers on their side in the next transfer window that will commence in January next year.
They are eyeing a number of potential targets for strengthening the side for the rest of the season, and the list of targets is reportedly headed by the Belgian defender Toby Alderweireld, currently playing for their Premier League rivals Tottenham Hotspur.
The 29-year-old has been one of the mainstays in the defence for the Spurs and has been guarding the back line of the side along with his compatriot Jan Vertoinghen. The duo has been performing exceedingly well for their side and Tottenham are willing to keep them at the club in the forthcoming days as well.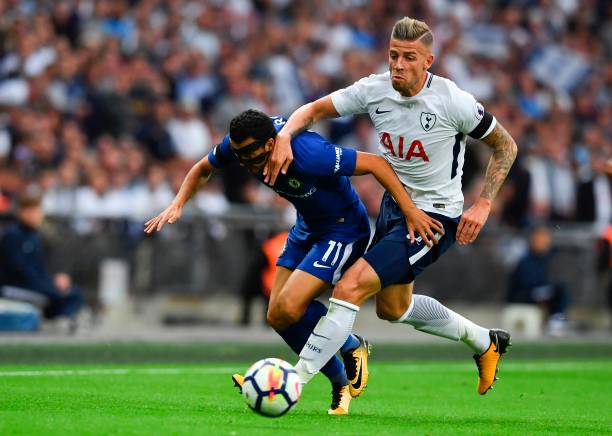 However, Alderweireld has been unhappy with the present state of affairs at the North London club, especially regarding their strict wage structure. He has also been vocal about it, showing his displeasure about the system and is reportedly looking for a new club during the next transfer window.
The development of the situation is being very minutely observed by Tottenham's close rivals Chelsea, who are willing to bring in the player to make their back line more stable and bolster their chances to make it to the top of the table once again in the Premier League, keeping hold of the coveted title for this season as well.
Alderweireld is known for his towering presence in the backline of his side and help keep their rival attackers away from getting into the attacking third and scoring goals. His physical presence is immense and is enough to bog down his opponents to keep his side out of harm's way.
In case Chelsea are able to get their hands on the player in the January transfer window, it will be a huge boost for them in getting their problems in the defensive area sorted and have a formidable back line at their disposal. So can Conte lure Alderweireld to Chelsea?