Thomas Muller has been a subject of some serious interest from top clubs around Europe, even more so from the top Premier League heavyweights like Manchester United and Chelsea. The German International has found himself to be singled out since Ancelotti's tenure began. Muller clearly hasn't had any significant impact on the pitch since Pep Guardiola left and of late, there is a sense of disagreements, hateful words, and fire, brewing over the Bayern camp.
All of this only points to one direction. Muller's future at Bayern is extremely insecure if Carlo Ancelotti happens to stick around with the club for long. Therefore, the thought of him leaving the Allianz Arena is not a far-fetched analogy by any means. Manchester United and Chelsea have long endured interest in the Bayern Munich forward and in this article, we'll talk about the club which fits better for Thomas Muller.
Chelsea
Thomas Muller could be a very good addition for Chelsea FC. The defending champions of the Premier League were keen on signing some world class forwards in the transfer market this summer but ended up only managing to sign Alvaro Morata. Considering the fact that the Blues will have a triple burden of playing in three different competitions and the breakup with Diego Costa, the acquisition of someone like Muller is paramount.
Chelsea execute a high pressing scheme under Antonio Conte. The Blues were successful with a bulky striker like Diego Costa up front and there's no wonder why did Antonio Conte want Romelu Lukaku so badly this summer. But things become very complicated with someone like Alvaro Morata playing upfront. The Spaniard lacks the physicality but makes up for it, with his clever positioning and agility in the final third. Partnering him alongside Thomas Muller, will, more or less, make the Chelsea forward line a tad too one-dimensional.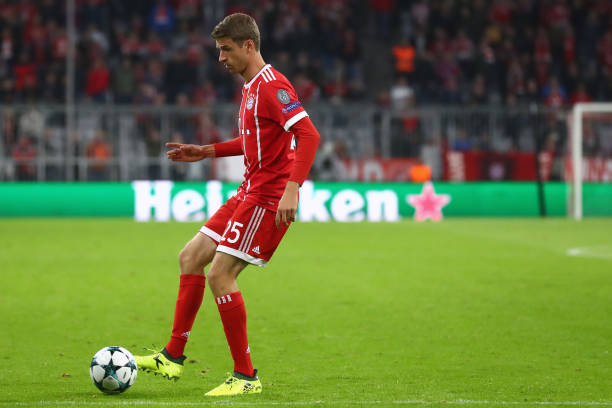 Muller is someone who likes to create spaces for himself, and his teammates, ultimately leading to multiple chances in the final third. But unfortunately, Morata is not exactly known for his goalscoring prowess while Thomas Muller himself is not a goal-scorer in comparison with the likes of Robert Lewandowski or Romelu Lukaku for that instance. So there might be a sense of doubt regarding Thomas Muller's successful integration at the Stamford Bridge.
Manchester United
Things are very different at Manchester United and for good reasons. Because when it comes to the Red Devils, they really shouldn't worry about Muller's goal-scoring tally being significantly down. Truth be told, I've never viewed him as a top goal scorer but instead, someone who can facilitate the forward line and create spaces for his teammates or in a more precise term, a ramdeuter.
The thing about Manchester United is that they already have a proven goal-scorer in the shape of Romelu Lukaku. The Belgian's been on fire this season, scoring six goals in six competitive matches for the Red Devils, following an 85 million euro move to the Old Trafford this summer.
Similar to his role, under Pep Guardiola, Thomas Muller could play just in behind the main striker Romelu Lukaku and act as the transition man between the midfield and the attack. The 27-year-old is so good even in tight spaces, which could be very helpful for Jose Mourinho in breaking down defensively rigid teams such as West Brom, and even Tottenham Hotspur.
Manchester United have been on an upward trend this season, and with their seemingly impressive performances, things are only going to better as far as the Red Devils are concerned. Which is exactly why Thomas Muller should really consider moving to the Old Trafford next summer, just after the World Cup, if only Carlo Ancelotti does happen to stay at Bayern until that period.