Celtic kicked off their 2017/18 Champions League campaign tonight against French giants PSG.
Last year, in the Champions League, Celtic did not make it out of the group stages. They finished bottom of their group. In fairness that did group have Barcelona, Manchester City and Borussia Dortmund in it.
However, their group this year is not much easier with PSG, Bayern Munich and Anderlecht in it, Celtic's chances of making it out of the group, once again, look very small. With such a tough group and tonight's game being at home, Celtic really needed something from this game.
Celtic had to take on PSG tonight without star man Moussa Dembele. However, they were able to welcome back striker Lee Griffiths.
Celtic had a very poor first half. PSG completely out classed them, dominated the game and put 3-0 past them putting the game to bed inside the first 40 minutes.
In the second half, PSG took their foot off the gas a bit in the second half. This allowed Celtic a bit more possession a few chances. However, they were still very much second best.
Here are the Celtic player ratings from their defeat to PSG.
Craig Gordon: 6 /10
Gordon had a tough night in goal for Celtic. He couldn't do much about PSG's first which Neymar blasted into the roof of the net.
He maybe could have taken up a better position for PSG's second. But he and every Celtic defender were tricked by Cavani missing his shot.
Gordon also went the wrong way for Cavani's penalty. He then got unlucky with an own goal for PSG's 4th and then Cavani pulled off a world class header for their 5th.
Despite conceding five Gordon didn't do too much wrong tonight.
Anthony Ralston:  5.5/10
The 18-year-old had a huge task tonight going head to head with one of the world's best, Neymar. Ralston was somewhat over eager to prove a point against the Brazilian and he put in a number of silly challenges early on.
He then couldn't keep up with Neymar on 19 minutes when he was played through which lead to him putting PSG 1-0 up. He also let Neymar put the ball back across goal on 34 minutes which lead to Mbappe scoring.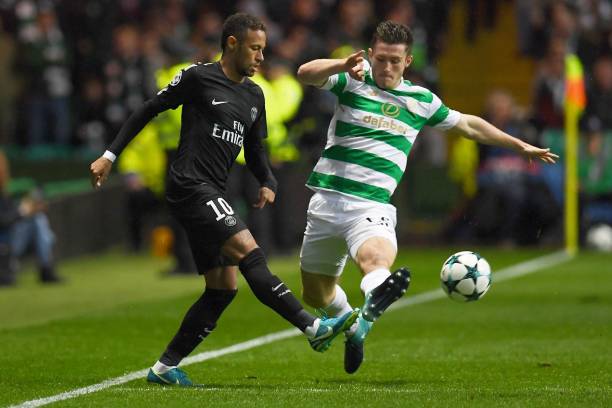 Ralston did redeem himself a bit in the second half by blocking Mbappe's shot which likely would have been PSG's fourth. He then let the ball go through his legs from a PSG cross which subsequently bounced of Lustig and into Celtic's net.
Ralston gave it his all tonight. But he was very much in over his head.
Mikael Lustig:  6/10
Lustig made a few good tackles in the first half and continued to do so into the second. He then put in a good challenge late in the game to prevent Mbappe getting through. But moments later he put the ball into his own net from a Draxler cross.
Jozo Simunovic:  5/10
Silly defending from Simunovic on 38 minutes gave PSG a penalty after he pulled down Cavani in the penalty area. Cavani then converted the penalty for PSG's third.
He then didn't mark Cavani to well in the 84th minute who headed in for PSG's 5th.
Kieran Tierney: 6 /10
Tierney could have done better closing down Verratti before he crossed in to set up PSG's second goal. However, he was perhaps Celtic's best defender tonight. But for a team that conceded five, that isn't saying too much.
Scott Brown:  6/10
Scott Brown struggled to deal with Verratti's quality tonight. Brown gave it his all as always and was fired up. However, PSG's midfield proved too much for Brown to handle.
Olivier Ntcham:  6/10
Ntcham very much had a similar game to Brown. He made several good tackles but like Brown Verratti, Rabiot and Motta proved too good.
Patrick Roberts:  6.5/10
Let PSG play the ball to Kurzawa on 15 minutes way too easily, which lead to the Frenchman crossing the ball to Cavani who scored, luckily for Celtic, it was offside.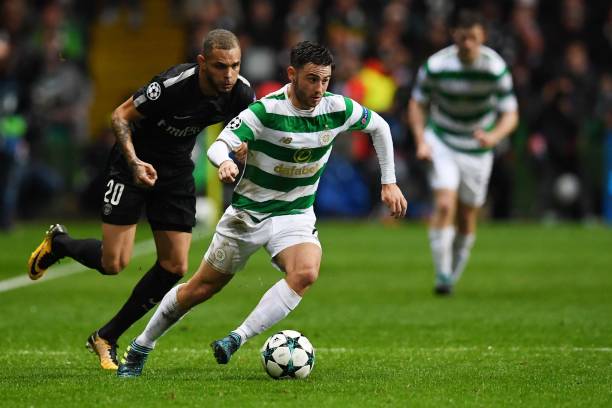 Roberts did cause PSG a few problems going forward. He won Celtic a free kick in the 21st minute which Lee Griffiths did well with. But the PSG keep saved.
Roberts may have been Celtic's best forward player tonight. He caused PSG a few problems but didn't manage to find that key pass/goal. Either way, a good performance from the youngster given the opposition he faced.
Stuart Armstrong:  5/10
Armstrong had a very quiet night against PSG. He created very little playing in a restricted CAM role before he was subbed off at half time for Rogic.
Scott Sinclair: 5.5 /10
Sinclair was very much kept quiet by Danny Alves in the first 45 with Sinclair creating no real chances for Celtic in the first half.
He livened up a bit in the second half bursting into the PSG box and firing a shot at goal which was saved by Areola. However, Danny Alves would ultimately be too much for Sinclair and he didn't create much all game.
ST: Lee Griffiths:  5.5/10
Griffiths was slightly isolated up front tonight. He did decent with his first chance of the game which was a free kick on 21 minutes. But he didn't score it due to a good save from Areola.
Griffiths then had a good chance early in the second half when he Tierney floated a good cross into the box. But Griffiths made a strange decision to head it across goal to nobody.
Overall, a quiet game for Griffiths and the one good chance he did get he didn't do well with it.
Substitutes
Tom Rogic:  5/10 (45 minutes)
Rogic came on for Armstrong in the hopes he could provide a bit more attacking threat for Celtic. This was not the case. Instead, Rogic misplaced several passes and was not an improvement on Armstrong.
James Forrest:  5/10 (78 minutes)
Forrest didn't really have time to put his mark on the game due to him coming on so late. The game was already won by PSG and Forrest couldn't really change that.
He did worry Kurzawa a bit with his pace, however, he didn't create any real chances.