Borussia Dortmund played out a disappointing draw against Freiburg, as they fail to steer clear of the 10 men Freiburg at the Schwarzwald Stadion on Saturday. The Black and Yellows lost two of their key players as Marc Bartra and Marcel Schmelzer, were subbed off, inside the first half. Freiburg were decimated to 10 men in the 27th after debutant Yoric Ravet made a horrific tackle on Marcel Schmelzer, which resulted in a big expulsion and ultimately, the Dortmund club captain had to be stretchered off the pitch.
It was initially a yellow card from the ref until the VAR reverted the decision to a straight red for Yoric Ravet.  However, despite losing a man inside the first half an hour, the home side were very sturdy defensively, ultimately scavenging a point out of the game through some industrious defensive masterclass.
Here are the best and the worst Dortmund players rated in their scoreless draw with the Black Forest outfit.
Roman Burki(8/10): The Swiss goalkeeper managed to keep his third consecutive clean sheet in a row, as he hardly had to do anything against his former team. Dortmund's 80% possession suggests the fact that Burki was a mere spectator throughout the game, apart from Freiburg counterattack in the first half, where he made a brilliant save to deny Kleindienst from scoring.
Lukasz Piszczek(7/10): Worked hard on the right-hand side but to no avail. Piszczek's crosses weren't as accurate, as Dortmund desperately tried to get balls in behind the Freiburg defence.
Sokratis(7.5/10): Defensive solid, Sokratis kept his good defensive form intact, but one would argue that he should have done better offensively. Almost playing as a central midfielder due to the relentless Dortmund pressure on the opposition, Sokratis' long balls were ineffective.
Marc Bartra(NA): Couldn't even last 20 minutes, as he had to be subbed off in the 17th injury due to an injury. He is unlikely to feature against Spurs this midweek in their Champions League fixture.
Marcel Schmelzer(NA): Looked bright after making his comeback from injury but his comeback was cut short by Yoric Ravet when a dangerous tackle from the Freiburg newcomer hit his ankle. He was stretchered and subbed off in the 30th minute.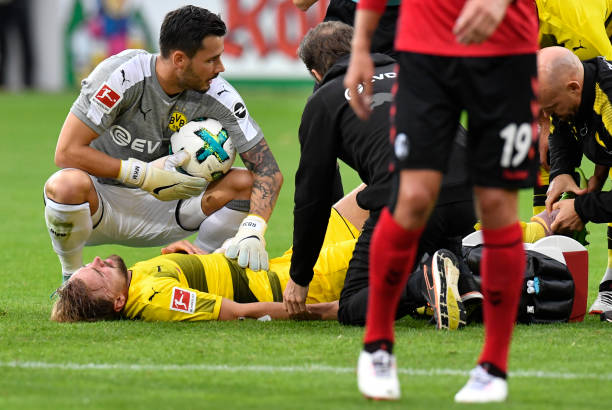 Nuri Sahin(7.5/10): Didn't have as much impact as the last few matches. Sahin was desperate for an opening but most of his through balls or lobbed balls were ineffective and inaccurate. However, he was a constant threat from long range, amassing five shots on goal.
Gonzalo Castro(7/10): Another midfielder who could never really assert his dominance over the game. Castro was scouring in the offensive areas for the most part of the game, but to no avail.
Mario Gotze(7.5/10): Looked dangerous while he was on with some smart movements and clever through balls. Gotze clearly had an impact on the proceedings but failed to conjure anything against the rigid Freiburg defence.
Christian Pulisic(6.5/10): The American was simply non-existent against Christian Streich's' men. Pulisic wasn't active in the attacking department, with just 25 passes and surprisingly, no dribbles at all! He would expect to do a lot better against Spurs in midweek.
Maximilian Philipp(7/10): Scattered himself in the box, just beside Pierre-Emerick Aubameyang and was looking more of a target man rather than a left winger. The lack of men on the left flank was primarily a reason of this change of play from the ex-Freiburg man.
Pierre-Emerick Aubameyang(7/10): Failed to make a telling impact, as the delivery from the middle was in short supply. Even though he did score a goal in the 80th minute but it was ruled out as the ref had already blown the whistle for a foul on Sokratis.
Subs
Omer Toprak(7/10): Partnered alongside Sokratis after initially being subbed on for Bartra in the 17th minute. Toprak looked confident in his passing but his long balls were rather inaccurate.
Dan-Axel Zagadou(7/10): Wasn't as impressive as he was in the last few matches. Largely down to his lack of offensive output, Zagadou was totally ineffective for Dortmund after coming on.
Andriy Yarmolenko(NA): Replaced a tiring Mario Gotze in the 80th minute but it was too late as the Ukrainian didn't have much to do offensively. However, he will play a vital role as the season progresses.