Barcelona pulverized Italian giants Juventus 3-0 in what ended up being a rather one-sided contest at the Camp Nou. Lionel Messi was the star of the game, scoring twice and assisting once to enhance their chances of finishing top of the group. Juventus were quite organized defensively in the first half but were undone by Messi's excellent finish on the cusp of half time.
In doing so, Messi scored for the first time against Gianluigi Buffon. If that wasn't enough, Messi assisted Ivan Rakitic to double the lead and added another one in the 69th minute in what turned out to be a comprehensive win. Below are the Barcelona's player ratings from their excellent win over Juventus:
Ter Stegen:
Rating:7
Ter Stegen had relatively easy saves to make between the sticks apart from a shot in the second half by  De Sciglio.
Nelson Semedo:
Rating:7
Semedo was solid at the right-back spot and has slotted in quite quickly. He was also offensively influential.
Gerrard Pique:
Rating:6.5
Pique made a few timely blocks and also cleared off the line, late in the second half.
Samuel Umtiti:
Rating:7.5
Umiti had a solid game at the back, defending aggressively and effectively.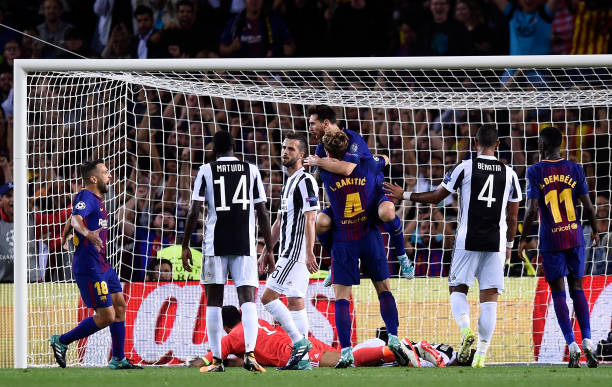 Jordi Alba:
Rating:7
Alba had a decent game as he marauded forward on a number of occasions although he offered little in terms of end-product.
Ivan Rakitic:
Rating:7
Apart from the goal, his influence was quite subtle throughout the game as he added guile and trickery to Barcelona's game. He was relatively underwhelming and his game, despite being good,  wasn't upto his usual standards.
Sergio Busquets:
Rating:7.5
Busquets displayed great defensive work, often making vital tackles and interceptions to disturb Juventus' offensive rhythm.
Andres Iniesta:
Rating:8
Iniesta was phenomenal as he made a lot of shrewd passes and retained the ball in pressure situations without letting the offensive momentum down.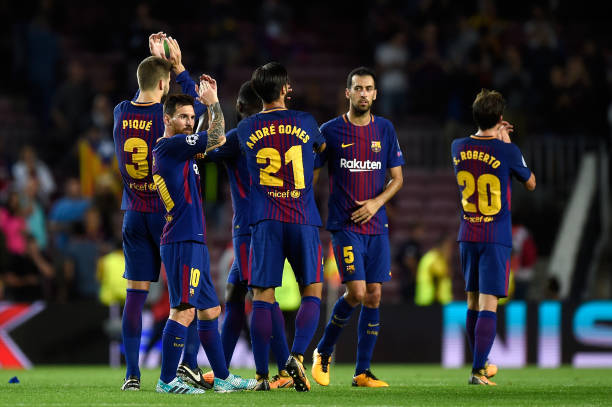 Ousmane Dembele:
Rating:7
Dembele started brightly and showed excellent pace and dribbling initially but was a bit of a passenger as the game progressed and was substituted-off for Sergi Roberto.
Luis Suarez:
Rating:7
Suarez played some excellent one touches in and around the box, making the attacks a lot more potent. He was also the provider for Messi's first goal.
Lionel Messi:
Rating:8.5
Lionel Messi started slowly but grew as the game progressed. He scored two outstanding goals with Buffon between the sticks, against whom Messi had never formerly scored.
Substitutes:
Sergi Roberto:
Rating:7
Sergi Roberto had a decent game after coming on and absorbing late Juventus pressure in the midfield.
Paulinho:
Rating:6.5
Paulinho was subbed-on to slow the game down and take a firmer hold of the game.
Andre Gomes:
Rating: N/A
Gomes played too little to warrant a rating.