Arsenal started their season on a mixed note and are presently looking for a series of wins to reshape the campaign in the Premier League. They have already been handed a big boost after their dominating performance against West Bromwich Albion during the midweek clash and will look to keep their winning run intact in the future as well.
The North Londoners faced a number of problems with their lineup and have used a number of players in various positions in the team. One player who has featured consistently so far this season in that lineup is the right back Hector Bellerin. He is in very good form of late and is eyed by a number of big-name clubs from all over Europe.
The Spaniard has fit perfectly into the new team formation implemented by their gaffer Arsene Wenger as a right winger and has contributed well to his side. His darting runs down the right side and his crisp passes and delightful crosses in the attacking third has attracted the attention of one of the biggest clubs in European football in the form of Barcelona.
The Catalan giants have faced problems in defence in the last season and need someone who will be able to help them stabilise it with his quality and guile. They switched between a number of players to play on the right flank effectively but have not been able to find a permanent solution.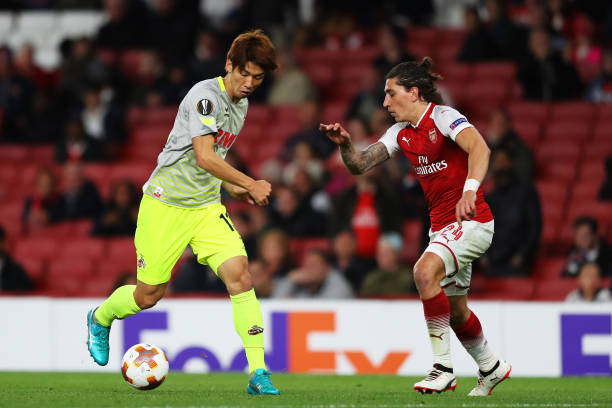 Bellerin can bring them that much-needed relief and add a lot of class to their side with his experience that he has gained while playing for the Gunners in the top flight since his arrival at the Emirates Stadium in 2014.
Reportedly, the former Spanish champions are quite desperate to rope the 22-year-old into the side and are ready to offer one of their young talents in the form of Denis Suarez to the Premier League club and activate a swap deal.
The Spanish midfielder has been a part of their squad since 2016 and is restricted to a bits and pieces role, mainly as a winger, after a disappointing start to his Barcelona career last season. There is a good chance that the player might be offloaded in the next transfer market and the Blaugrana wants to make his departure count, swapping him with one of their most desired candidates.
However, Arsenal might are well aware of how important the Spanish international is for them and might not agree to a deal to swap between the two compatriots, leaving Barcelona disappointed once again in the next transfer window.