According to English news outlet, Daily Mirror, it is reported that Arsenal are ready to rival Real Madrid and Liverpool in the chase to sign Christian Pulisic. Though the Borussia Dortmund youngster is pretty happy at his current club, Pulisic did confirm that he will start considering offers after the World Cup.
Chrisitan Pulisic is widely regarded as one of the best talents in the world football right now. The American wonder-kid broke through to the scene about 18 months ago and never had to look back since. Partly thanks to all the injury crisis BVB have suffered over the past, Pulisic successfully managed to make an impression into the first team and is now one of their best attackers in the team.
So, will he be a good fit for Arsenal?
Pulisic will most definitely be a great signing for the Gunners. At the age of 19, he has embraced the rigours of top-flight football. Growing with confidence day after day, Pulisic's maturity at his tender age is a pleasant sight to watch.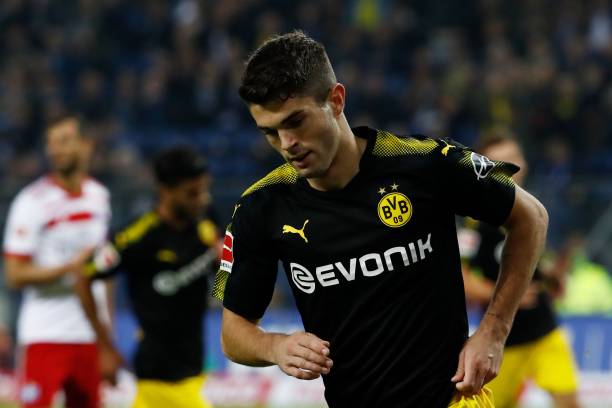 Still, in his teenage years, he has well established himself as one of United States' top exports in the German top flight and has some genuine world-class quality about him. He's only the sixth American in the history to have scored seven Bundesliga goals, and you can bet your house that he's the youngest ever to do so.
Naturally a winger, Pulisic plays with a certain swagger on the pitch. His tenacity and willingness to press the opposition are admirable. And we sure know that he likes to score as well. He has the sense of being in the right place at the time.
One of his strongest assets is the fact that he doesn't try too much with the ball. In many ways, Christian Pulisic can be deemed as an old fashion winger. He runs in at the defence and has got some serious skills to get past the opposition as well. He can be devastating for any opposition on any given day.
At Arsenal, Christian Pulisic can easily be the direct replacement for Alexis Sanchez, who looks to be leaving for Real Madrid next summer. He has got the directness and pace just like the Arsenal star. However, he needs some work on his physical prowess and his long-range shooting abilities.
But then again, he just turned 19 last week! Although he's expected to cost quite a fortune, Arsenal can be sure of his qualities he possesses on the field. He'll no doubt be a success in the future.