Following the initial interest from Chelsea and Manchester City, Arsenal and Manchester United have also opened their radars for the 16-year-old Genoa wonderkid Pietro Pellegri.
The Italian youngster shot to stardom last week after scoring a brace against Lazio, in what was his first ever start in professional football.
Although Inter are firm favourites to sign the youngster next summer, AC Milan and Juventus have also asked about his availability along with a host of Premier League clubs including the Gunners, who are the latest side to show interest in the 16-year-old.
Pellegri became the youngest goal-scorer in Serie A history last week when he netted two against a hapless Lazio defence. Signing Pellegri could actually make a lot of sense for the Gunners, as the Genoa youngster has a lot of promise.
His tall figure will help him thrive in the Premier League and he might as well emerge as a long-term replacement for the ageing Olivier Giroud.
Pietro Pellegri is a strong centre-forward. And how many times have we seen a physical striker not finding success in the Premier League? The likes of Olivier Giroud, Romelu Lukaku, Diego Costa, Zlatan Ibrahimovic have all shown that physical prowess is often the most valuable asset for a Premier League striker.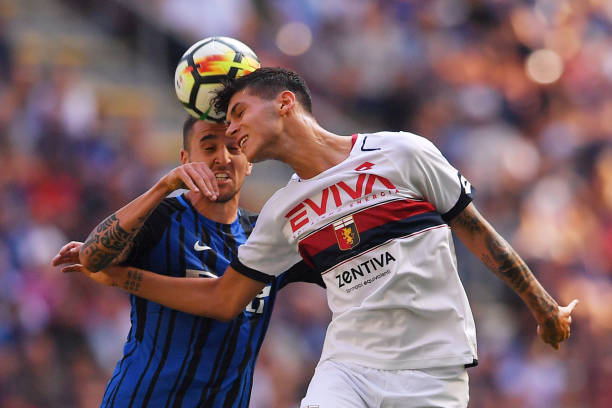 Furthermore, Pellegri is also a vicious striker, with a terrific finishing ability. He always plays on the shoulders of the last defender and looks for spaces to run in behind. This could prove to be a really good supplement for the Gunners in the final third, especially with the likes of Mesut Ozil, Aaron Ramsey, and Theo Walcott scouring in behind.
His tendency to always look for the perfect opportunity to score is what makes him a dangerous forward for Genoa. There's no doubt over his attacking fluency in the final third, which further approves his credibility as a complete forward.
However, a move for the Serie A youngster might be a little too soon for the Gunners at the moment. Despite showing loads of promise, Pellegri still lacks the key experience needed to thrive in the Premier League.
Arsenal should instead reach a pre-mature agreement with Genoa and let him stay at his beloved club for a few more seasons, in order to gain some valuable experience in the top flight. And this time, they will look to make sure that they don't mess up on yet another transfer target.