Latest reports from The Gambling Times, suggests that Arsenal are seemingly keen on signing Anthony Martial of Manchester United. The same report claims that United are alerted to the situations of Mesut Ozil and Alexis Sanchez at Arsenal, which makes sense for Gunners' interest in the United forward and it may well be a key if both clubs agree to switch players next summer.
Following the arrival of new talents and the improvements in performance from Henrikh Mkhitaryan and Marcus Rashford, Anthony Martial has found it difficult to find regular game time for United this season. As things currently are, the Frenchman could be tempted to move to Emirates next summer. But what could it possibly mean for the Gunners?
Arsenal themselves have problems of theirs in the offensive department. Both key players in Mesut Ozil and Alexis Sanches are stalling over their new contracts with the club and are likely to leave Emirates next summer. Meaning Arsenal will now be desperate for a new signing next summer, or perhaps even in the winter transfer window.
Ozil and Sanchez are Arsenal's only hope in the offensive department that they have this season. While there's been a significant uprise in Lacazette's form in recent weeks, backups like Theo Walcott continues to deteriorate, ultimately leading to the club's second fiddle shortcomings.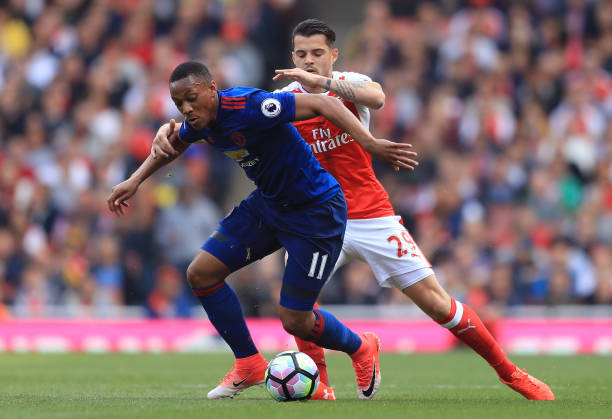 Alex Iwobi has been really promising but inconsistent as well and the Gooners are pleading for someone who can spark life into this dire Arsenal frontline.
Anthony Martial might just be the man Arsenal were hoping for. The young Frenchman is a technically gifted winger, with offensive versatility. He can play either as a winger or a striker equally well.
Blessed with a series of tricks which can baffle any PL defender, Martial can play a huge role for Arsenal going forward. Furthermore, he's also very good at dribbling, which combines well with his very good physical prowess, ultimately giving him an edge over opposition defenders in the final third.
Arsenal desperately needs someone who can be helpful going forward. Martial ticks all the boxes to evolve as a clear fit for them, especially with his knack for scoring important goals.
Though he needs to work a bit more on his passing game, Martial, in every way, makes perfect sense for the Gunners. He's definitely a must buy for Arsene Wenger's men next summer.
However, it will also depend on the asking price of Manchester United for the services of their French attacking talent. Anything over the 50m mark shouldn't be considered by the Arsenal board whatsoever!