Arsenal have not been working on extending the contract of their star playmaker Mesut Ozil amidst rumours claiming that the German International might leave next summer for free. Mesut Ozil is just one of few players, who are playing in their final year of their respective contracts. Alexis Sanchez and Jack Wilshere are also included in this list.
Ozil joined the Gunners back in 2013, for a fee of £42.30m. At the time, he was the most expensive German player of all time, overtaking Mario Gotze, who also joined Bayern Munich the same year.
This summer, Arsenal kept a hold on both of their star players in Mesut Ozil and Alexis Sanchez despite a series of interest from other top European giants. While Sanchez definitely stole the limelight more than any other Premier League player this summer, Ozil too was the subject of some significant interest from clubs such as Borussia Dortmund, FC Barcelona. However, this might cave in a series of problems for the Gunners, as they might face the reality of, the £42 midfielder leaving the club for free next summer.
Suffering net losses, are the not thing Arsenal are known for, as the London based club, has brought in many players for a very cheap price only to see them leave the Emirates for bigger fees. In this case, however, both Ozil and Sanchez could leave the Emirates for free, as things stand at the moment.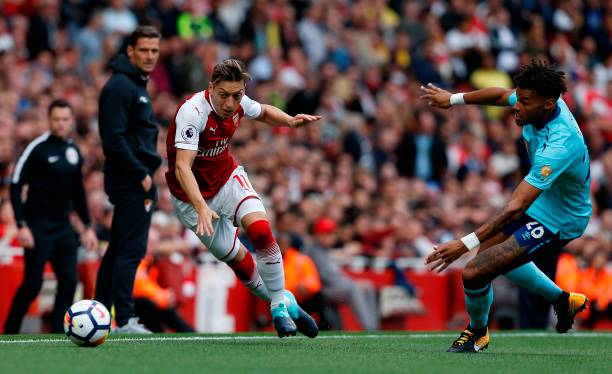 It's evident that Sanchez is no longer interested to play for Arsenal, but Ozil, on the other hand, could face a delicate situation and he may well be pretty content with playing for Arsenal in the future, given he is offered a new contract.
But German publication SportBILD, claims that there have been no contract talks with Ozil and the club, ever since previous negotiations broke down back in February.
Arsene Wenger, however, feels relaxed about their star players playing in their final year of the contracts. Asked if he was comfortable with Ozil being in the final 12 months of his contract, Wenger said:
"Yes, I think in the future you will see it more and more.
"Why? Because the transfers are so high even for normal players, you will see more and more players going into the final year of the contract.
"No club will want to pay the amount demanded. I'm convinced in the next ten years it will become usual."
But in ground reality, it really doesn't make any sense for a club to see its star players leaving for free, as far as financial reasons are concerned. Big European clubs seemingly scour the market just to find players like Sanchez and Ozil, and in today's market inflation, the German playmaker could easily be worth around 60 million euros.
Therefore, it seems ideal that the club should definitely start working on extending Ozil's contract as soon as possible. The player is hopeful for a new contract, which will keep him at the club for long, and at the same time, also increase his wages.
Mesut Ozil has been a big name in European football for quite some time now, and to have a player like him certainly enhances a club's reputations. But to see him leaving the club for free next summer, would not only be a boost for his suitors but it won't also go down all too well with the fans either.