The Matchweek 4 produced a number of nail biting games, making it enjoyable for some of the sides, while a few others found it miserable, facing defeats to stall their progress in the competition. All in all, it was an enthralling weekend, which once again proved that it is quite difficult to jump to preemptive conclusions about one of the most competitive leagues in Europe.
While Manchester United found it difficult to get past Stoke City and drew 2-2 against the Potters to end their 100 percent win record in the Premier League this season, West Ham United found their way back to winning ways after getting thrashed in their last three outings in the competition.
However, it was not the same fate for Crystal Palace, as they stumbled to another defeat at the hands of the Burnley by 1-0. In a Matchweek filled with a number of events, the main talking points are as follows-
The Sacking of Frank De Boer as manager of Crystal Palace-
Crystal Palace made their decision about the fate of their manager Frank De Boer and sacked him just after four matches in the competition. The Dutchman, who has the experience of managing top clubs like Ajax and Inter Milan in the past, was brought into the club in place of Sam Allardyce, who parted ways at the end of the last term.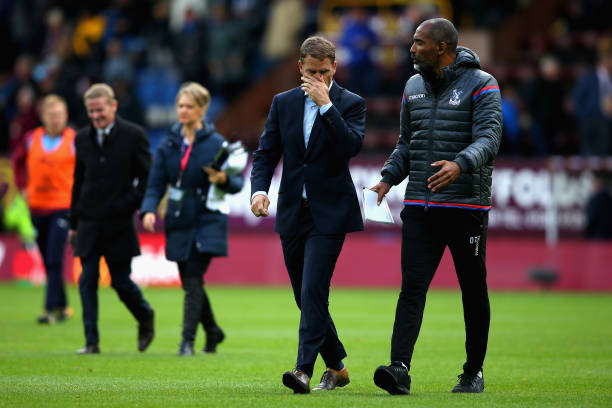 The wily manager was expected to lead his new club to wins but he faltered in his role, as the South Londoners stumbled to defeat in each of their matches so far, which pushed the side into the relegation zone. Experts have been divided in their opinions about the sacking as the Eagles prepare to welcome their new manager Roy Hodgson for the rest of the season.
Harry Kane completes his century of goals in Premier League-
The English striker made his way back among the goals, as he scored a brace against Everton to open his tally for the 2017/18 season. It also got Tottenham Hotspur a much-needed win and him the privilege of completing his century of goals in all competitions.
The player was stuck on 99 since his hat-trick against Hull City in the last game of the last season, that saw him become the top scorer of the last term and also helped his side to finish on the second place in the Premier League.
West Ham United present their manager with a win on his birthday-
The Hammers looked down and out of the competition till their last match in the Premier League, which helped them bag a much-needed win against Huddersfield Town by 2-0, which also marked their first win of the season. It was also a fitting birthday gift for their manager Slaven Bilic and will seemingly buy him some more days as the man in charge at the London Stadium.