Man City were on song as they completely squashed aside a hapless Liverpool 5:0 at the Etihad Stadium. Both Gabriel Jesus and Leroy Sane bagged a brace while Sergio Aguero scored one historic goal, which initially broke the deadlock in the first half. The Sky Blues' were hugely aided with the 37th minute sending off of Liverpool winger Sadio Mane.
The win will give Pep Guardiola's team some much-needed confidence and will surely encourage their push for the title this season. As it happened, it was the first time Man City scored more than four goals against Liverpool since 1937. Here are the few key talking points in the rather one-sided contest at the Etihad today.
Otamendi's Early Yellow
Albeit the game started in a rather slow fashion with both teams, refraining to go all out in the attack. Manchester City were cautious in their build-up play but Liverpool took full advantage of their lack of defensive credibility at the back. And Otamendi's 5th-minute yellow card perfectly set the stage for the Reds to scour the already weak looking Man City defence.
Their pace on the break, having the likes of Salah and Mane combined with the smart movements of Roberto Firmino propelled them to some great chances early on. And to say that Liverpool were cowed, due to the relentless spell of possession from the opposition is definitely a falsehood. It also resulted in City being more conservative in their build up game.
Sadio Mane's sending off
By far the most eye-catching event of the game, Sadio Mane's first half sending off had a disastrous effect on Liverpool. Not only did they lose their most valuable offensive asset, but his sending off also meant that the visitors were now largely restricted in their counter attacking game, something which had a negative effect on their progress.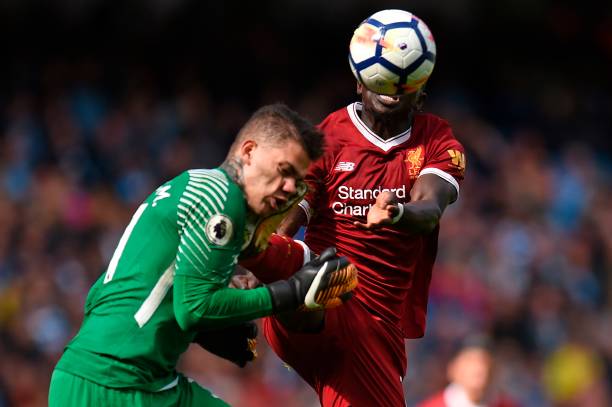 Before his 37th minute sending off, Liverpool looked fairly dangerous, while Salah and Mane were skipping past challenges enough times to raise an alarm for the Pep's troops as the visitors threatened to assert their dominance.
That was before when a long ball from Joel Matip completely exposed the City defence, allowing Sadio Mane to race clean through on goal. But just as it seemed like a clean run towards goal, goalkeeper Ederson came flying in, bravely and headed it away.
With the ball bouncing around, Mane already had his foot high to meet the ball but instead, and unfortunately, his foot came in contact in between Ederson's upper chest and lower throat. It looked awful and even more so after a band of replays, and ultimately, it got the expulsion it deserved with Mane being sent off. Ederson also had to leave the field in the process, replaced by Claudio Bravo afterwards.
Whether or not Mane deserved a red card will remain a big discussion for weeks. But the ref had no choice but show Mane red for serious foul play. Players' safety should remain the paramount focus for referees and the contact was just way too nasty for John Moss to go unnoticed. Therefore, it was the right decision to send him off.
Gabriel Jesus' Second Goal and Sane's inclusion
After a eventful spell of expulsion, which was caused due to Mane's challenge on Ederson, City had no respite and instead, went all guns blazing in order to take full advantage of Liverpool being decimated to 10 men. The second half started in the same fashion and the challenge became steeper when Fernandinho's amazing pass evaded Emre Can and found Sergio Aguero clean through on goal, but the Argentine showed no selfishness and squared it through Gabriel who made it 3:0.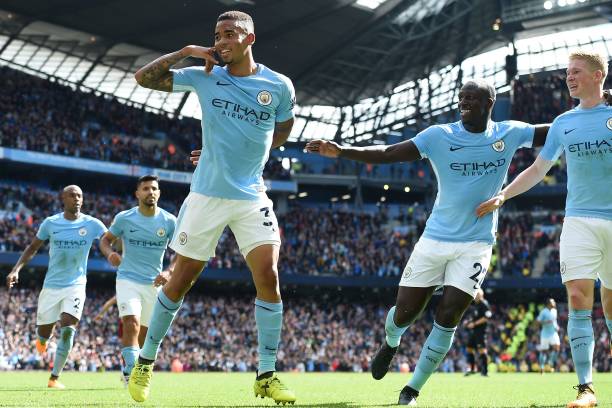 The goal completely sealed off the victory for Pep Guardiola's men as Jurgen Klopp chose not to commit any more men forward and instead opted to see out the rest of the game. It wasn't the case, however, as the third goal, paved way for more as the game progressed.
Shortly after his second goal, Gabriel Jesus was taken off for Leroy Sane, who made a telling impact after coming on, scoring two goals to add more flair to the scoreline. Toothless, distraught and devoured, Liverpool were shamefully slaughtered by the relentless force of Manchester City, as they piled through an array of attacking moments throughout the latter stages of the game.
At the end, it couldn't have finished in a worse manner. The 5:0 defeat will definitely have a telling effect on the team morale, and especially with Champions League fixtures just around the corner, Jurgen Klopp certainly needs to take care of his players' and make sure they don't lose confidence.