Tottenham Hotspur has not been in their best form this season so far in the Premier League and it has shown in their results. The runner-up team from the last term has won two, drawn two and lost one of their five matches so far, which has been detrimental to their growth in this term.
However, they are looking to make amends for their mistakes and rectify them as they take on a new opponent in the form of West Ham United in their next match in the Premier League.
Spurs have tried to be at their attacking best since the inception of the campaign, but have not been able to score as many goals as they would have liked so far. In their last match against Swansea City, they failed to put the ball in the opposition net even once, leading to end the match in a lacklustre draw. This has called in for some serious steps to be taken so that they can score goals and win their next match against the Hammers, who are themselves in a spot of bother, having won only one of their first five matches in the top flight this season.
Here is how Pochettino might field his side for this tie: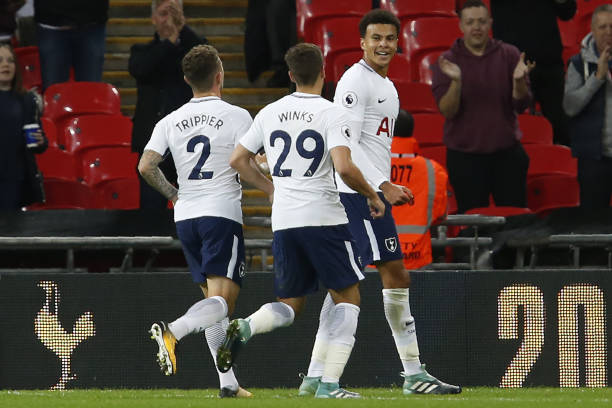 Defence:
The Tottenham defence played a major role in their success in the last season, helping clinch the second spot on the league table. They will try to show their mettle once again to stop their opponents in the next match from scoring. In a predicted 3-4-2-1 lineup, the onus will be on Toby Alderweireld, Jan Vertonghen and Davinson Sanchez to keep the opposition strikers at bay and help their goalkeeper cum captain Hugo Lloris keep another clean sheet.
Midfield:
Led by the central midfielders Moussa Sissoko and Eric Dier, the Spurs midfield will look to help their attackers have a good game by making delightful passes and crosses into the attacking third to help them score against the Hammers. The right and left flanks will be guarded by Kieran Trippier and Heung Min Son, who will look to have a good match.
Attack:
Led by the highest scorer in the last two seasons, Harry Kane, the Spurs attack will look to score goals and win the match against West Ham United. The English international has scored only two goals in the Premier League this season so far and will look to add to his tally and also help his team to win the contest.
Attackers Christian Eriksen and Dele Alli will look to try and help him and hopefully contribute in a much-needed win with a few goals of their own.
Predicted Lineup:
Lloris, Alderweireld, Sanchez, Vertonghen, Trippier, Sissoko, Dier, Son, Dele, Eriksen, Kane.