Wolverhampton Wanders breezed aimlessly in the lower half of the league table last season and more often than not, they seemingly appeared to be a side bereft of the requisite willpower to succeed. They finished 15th in the Championship league table with 58 points to their name, failed to reach anywhere near the playoff spots and it goes without saying that they looked miles away from the likes of Newcastle United, Brighton & Hove Albion or Huddersfield Town.
However, the initial glimpses presented by them this season has been quite intriguing to watch as under the tutelage of Nuno Espirito Santo, the Wolves have started to hit the right chords and have accumulated 10 points from their first 5 league outings which has placed them on the 4th spot in the league chart.
Without any shadow of doubt, they have built a decent platform for themselves early on and must look forward to derive substantial dividends from the same to earn the uplift for themselves.
Espirito Santo has beefed up his arsenal in a very shrewd manner, having roped in top quality names like Ruben Neves, Roderick Miranda, Ryan Bennett, John Ruddy and Barry Douglas, but is still keen to have a more convincing attacking setup so that his offensive tactical nous can fall in place. In order to do the same, Wolverhampton Wanderers have put Preston North End's striker Jordan Hugill on their radar, as one of the latest reports have suggested.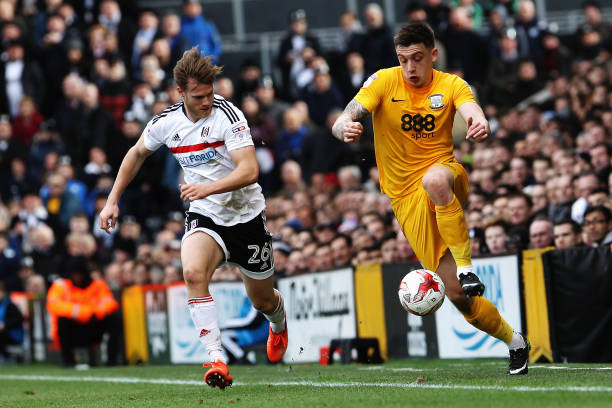 Hugill has been the talk of the town amongst the English second division clubs, for Reading and Birmingham City are also very keen to make him sign above the dotted before the transfer window shuts down. Moreover, it is perceived that the Royals tabled a bid of £8million, which was rejected by the Lilywhites earlier this summer, which implies that Wolves have to come with a better bid in order to lure him to the Molineux Stadium.
Hugill banged 13 goals last season, which made him the club's top goal getter. He has already found the back of the net 3 times across all competitions so far this season. No wonder why his stocks are high at this stroke of the hour and frankly speaking, Alex Neil might be reluctant to strike him off their books.
Nonetheless, Wolves should be attempting to test Preston's resolute as a big and mobile forward like him can really help them in achieving better results.
Latest posts by Prasoon Sur
(see all)