Having just scraped through to the Champions League, on the basis of the result of the final game of their previous campaign, Manchester United, who finished sixth in the points table last season, are now looking to make sure that they build on their performances from the previous season and challenge for more silverware this season.
The manager has allowed the likes of Wayne Rooney and Zlatan Ibrahimovic to leave the club this summer and has replaced them with Romelu Lukaku, who could potentially cost them £90m this summer. The Belgian star is a natural goal scorer and can replace some of the lost creativity in the side next season.
Mourinho has also brought in Serbian midfielder Nemanja Matic from Chelsea and Victor Lindelof from SL Benfica to shore up his defence and his midfield but the manager is still searching for players who can walk into his squad this season.
The likes of Ivan Perisic, Renato Sanches and Serge Aurier continue to be linked with a move to Old Trafford but do Manchester United actually need any more signings this summer? Let's take a look at their requirements at a glance.
Defence:
Unless David de Gea is quitting, Manchester United's goal keeping situation is sorted with Sergio Romero also pledging his future to the club. Victor Lindelof and Eric Bailly will be the first choice next season while Chris Smalling and Phil Jones are expected to act as backups. Mourinho cannot afford to lose any of those players this summer.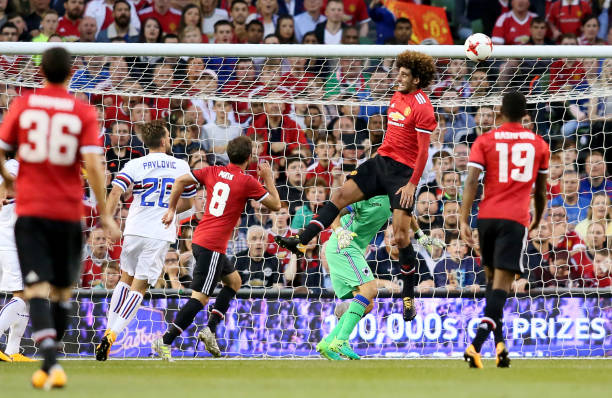 Matteo Darmian and Antonio Valencia are options at right back while Luke Shaw, Daley Blind and Marcos Rojo can all play at left-back. However, Mourinho wants more cover for these positions and is poised to land PSG star Serge Aurier in a £27m deal this summer, which should be enough cover for the backline this season.
Midfield:
With the addition of Nemanja Matic, Manchester United are expected to go with Paul Pogba and Ander Herrera on either side in a 4-3-3 formation, pushing Marouane Fellaini and Michael Carrick on to the bench. Mourinho might yet want another contingency plan, and Barcelona Sergi Roberto or Bayern's Renato Sanches could be decent options. However, it is highly unlikely that Mourinho will spend on another midfielder, as he already has four players fighting for just two positions.
Attack:
This is where United might be a bit too light for their liking. The likes of Romelu Lukaku, Henrikh Mkhitaryan and Marcus Rashford are expected to be the first choice next season while Anthony Martial, Jesse Lingard and Juan Mata will act as backups.
This is a decent attacking lineup, but not the strongest, thus their interest in Croatian winger Ivan Perisic this summer. If they fail to land him, Manchester United should search for another attack, who can walk into the first team next season, and help them during crunch times.