Manchester United are on the verge of breaking the world record for two consecutive summer transfer windows as Jose Mourinho, their latest manager, is hell bent on adding some of the finest stars in Europe to the squad this summer.
They have already spent on the likes of Romelu Lukaku and Victor Lindelof for the next season but Mourinho is determined to add another attacker to his side, having lost the likes of Wayne Rooney and Zlatan Ibrahimovic this summer.
The Red Devils have been looking at the likes of Ivan Perisic from Inter Milan but they have not been able to strike a deal with the Italian outfit, even as they are ready to sell. So the manager finally seems to have given up on his pursuit of the Croatian and is now looking at an up and coming star from the Bundesliga.
According to Italian news publication Calcio Mercato, Manchester United are now in the running to sign RB Leipzig star Emil Forsberg this summer. Reports claim that they are ready to pay up to €60m for his services and are hoping that they can complete this deal quicker than the Perisic one.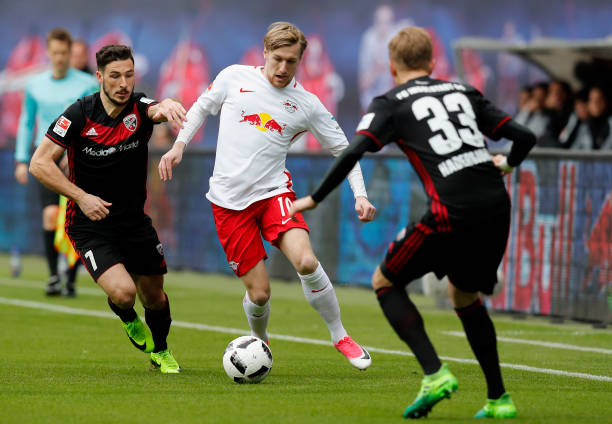 With eight goals and 19 assists last season in the Bundesliga, the 25-year old versatile midfielder was used on the left side of a compact system at Leipzig and he came out on top, helping his side to a place in the Champions League next season.
A product of the GIF Sundsvall Academy in Sweden, Forsberg has now established himself as one of the best in the business in Europe and with 27 international appearances already under his belt, he is surely going to be a star, in years to come.
Known for his ability to beat a man in the offensive third to get into favourable crossing positions on the flank, the 25-year old is a creative player, who loves to try things in the final third. He is confident of his abilities even under pressure and is capable of mixing things up, as he showed against the best sides in Germany last season.
Jose Mourinho is looking at Perisic as a versatile option in the squad to plug more than one hole and in Forsberg, he has found a similar player, who could help United for a longer time. The Croatian midfielder is 28 now and is in his prime but Forsberg will only improve as a player and can help the Red Devils establish themselves as European giants yet again.