Manchester United are set to be a busy club this summer as Jose Mourinho is planning a complete squad overhaul at Old Trafford for the next season. Their qualification to the Champions League has given them a chance to sign the best players in Europe and one player constantly linked with a move to Manchester is Celtic ace, Kieran Tierney.
The 20-year old is an in-demand star and is wanted by Arsenal and Liverpool but reports from the Sun suggest that Manchester United are ready to make a £15m for Tierney and is confident that he can land him.
Born and brought up in the Isle of Man, Tierney is a youth product of the Celtic academy and grew through the ranks at the club to break through into the senior side back in 2014. Ever since, he has made 49 league appearances for the Scottish side, 24 of which came in the previous season.
Known for his pace and attacking abilities down the left-flank, the 20-year old is an excellent passer of the ball and has the ability to create chances consistently in the final third. He is strong and not afraid to put his body on the line while his ability to read the game keeps him a step ahead of his opponents.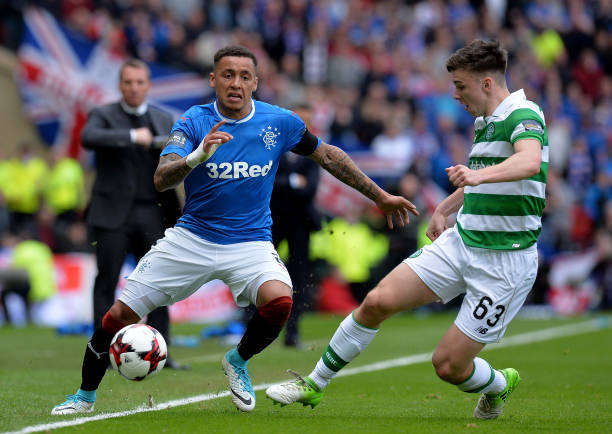 He is quick and hard to catch while his ability to put in inch-perfect crosses will surely attract Jose Mourinho at Old Trafford. But he has to improve on his defensive discipline that has at times cost the Scottish champions in the previous season.
The Portuguese boss has used Marcos Rojo, Daley Blind, Matteo Darmian and Luke Shaw in this position last season but none of them has filled the manager with too much confidence. While Shaw might still improve and cement a place in the first team, Blind and Darmian have little future at the club and could be sold this summer.
Rojo may yet retain his place but it is hard to see him start at left-back in the first team next season. But it is also hard to see Tierney walk into the line-up at left-back. United need an experienced full-back who can take the responsibilities of playing at the highest level next season and Tierney, though exposed to some European football, is not at that level yet.
They already have a budding full-back in Luke Shaw, who is just 21, and adding another 20-year old will not solve too many problems for the club. So it is best for United to look elsewhere for a more established left-back for their first team next season.