Liverpool have been involved with two of the longest transfer sagas this summer. Southampton's Virgin Van Dijk and RB Leipzig's Naby Keita are the two most wanted men in Liverpool right now. While the VVD rumours have gone off the wind a bit, the transfer speculation surrounding Naby Keita has been immense in past few weeks. RB Leipzig owner Dietrich Mateschitz recently revealed the club has received a 75m euros bid for the 22-year-old. However, Leipzig are unwilling to sell their star midfielder, with the club on the verge of their first ever European campaign.
On the other hand, Emre Can is also heavily linked with a move to Italian Champions Juventus. Because of the speculation surrounding Naby Keita, Can might as well be tempted to leave Anfield this summer. However, coach Jurgen Klopp will try his best, in keeping their German midfielder in the team next season.
So, if in any case, if Liverpool does miss out on the signing of Naby Keita this summer, can they rely on the services of Emre Can in midfield?
It is actually a really tough comparison to make between the two midfielders. Keita is more of a number eight who loves to get forward, pull the strings and score the odd goal. While Emre Can is more of a holding midfielder, mostly relying on his physical prowess to outwit the opposing midfielder.
Jurgen Klopp recently admitted that he is confident over Emre Can staying at Liverpool next season. He also thinks Can is a "very important" player for his team.
"You can imagine we're involved in talks and we all feel good and confident in this moment," Klopp told reporters.
"That means they're not the worst talks but until anything is done or signed there's nothing to say.
"Emre is a very important player for us. We don't want to sell or lose players who are in our first lineup or close to it." – Klopp said in an interview, per ESPN.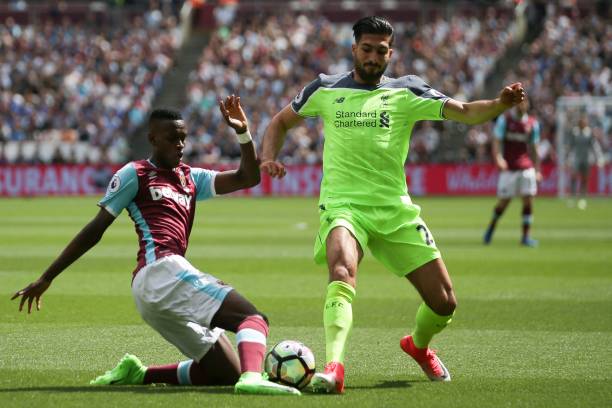 The German has excelled in his role as the holding midfielder ever since Jurgen Klopp arrived at the club. Playing alongside the dynamic midfielders in Jordan Henderson, Georginio Wijnaldum, and Adam Lallana. Can's importance in Liverpool's midfield is indispensable. He is a driving force of one of Premier League's top counter attacking teams, with energy, power, and charisma to dominate the midfield for the Reds.
In fact, with question marks over Jordan Henderson's captaincy, Can might as well evolve into one of the top candidates to replace the English International as the new Liverpool captain. His power, commitment and industrialism fuels the much-needed dynamics for Liverpool. Last season, he has played in a vast number of roles, under the suitability of his coach. His tactical nous coupled with his willingness to ply his team forward is one essential part of Liverpool's gameplay.
So it's quite fair to say that Liverpool should be more concentrated in extending the contract of arguably their best defensive midfielder than to go all out for Naby Keita. There's a reason why one of Europe's top team in Juventus, are trying so hard to land on the German International. As for Naby Keita, he has reported release clause of 48m pounds, which can also be activated next summer.