Pre-season games are a fascinating thing these days. Clubs across Europe spend a significant amount of time preparing for the pre-season games so that they will be able to get in shape for the new season.
Managers keep themselves busy chalking the strategy for the upcoming season amidst the busy schedule, as it will be the last chance to pin point the players' mistakes before the season starts. All elite clubs like Manchester United, Manchester City, Real Madrid and Barcelona spend hours after hours to fine tune the players' performances during these rigorous pre-season games.
There is some advantage behind staging these games. All the clubs have their respective international fan base apart from their own native places and during these tours, the supporters get to know their players very well.
Endorsements and photo shoot have become a part and parcel for the footballers and sometimes they have to please their sponsors by agreeing to a contract just to appear in the pre-season. And here are three players who have impressed in this pre-season so far, to find out who is in form, with just over a week left for the new season to begin:
Kevin De Bruyne (Manchester City):
Manchester City has spent more than £200m this summer and a lot of stakes will be riding on the players. Despite the new bunch of players arriving, Kevin De Bruyne is poised to be in the thick of the things next season.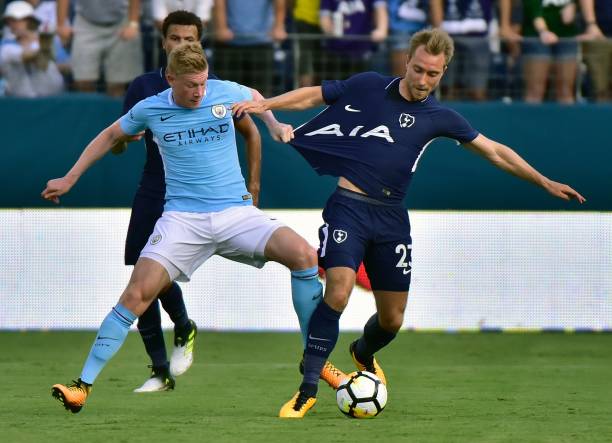 The Belgian star has every trick under his sleeves and his partnership with Bernardo Silva will be a mouth watering contest to watch. De Bruyne showed his class against Real Madrid as he ripped apart Los Blancos' defence with his visionary attacking movement and killer passes. He also boasts a superior set piece skills which make him almost unstoppable.
Mohamed Elneny (Arsenal):
A very surprising inclusion in this list is the Egyptian midfielder, who has been used in the backline for Arsenal in the pre-season. The results have surely satisfied Arsene Wenger. Both Shkodran Mustafi and Gabriel had their fair share of injuries last season and Wenger has had to use the midfielder in the defence next season. Elneny's performances will surely give Wenger another option at the back next season.
Mohamed Salah (Liverpool)
Liverpool's pacey winger had his chances to acclimatise himself to the system under Jurgen Klopp and is already earning plaudits for his positive display during the pre-season. On pen and paper the Reds currently have one of the deadliest attacking line-ups in the Premier League and if Salah manages to do the same for most of the season, Liverpool will have a very clear cut chance in the upcoming season.