Arsenal might have got an unlikely boost in their aim to strengthen the attacking force as AC Milan centre-forward M'Baye Niang has reportedly expressed his desire to move to the North London side and is even stalling contract talks with Everton for it.
The potential departure of Romelu Lukaku from the Goodison Park this summer has kept the Toffees on their toes in finding an equally good forward. And the French striker, who spent a somewhat successful spell with Premier League side Watford last season, is one of the main preferences.
The 22-year-old is keen on returning to England, however, this time with Arsenal. Wth AC Milan making it amply clear that the player is not in their plans for next season, he is a sure departure from San Siro this summer and if Arsenal makes a move, there is a high possibility he would take the opportunity.
Given his young age, Arsene Wenger might still be willing to spend on his once-desired forward to bring him to the Emirates. Arsenal have been heavily linked with a move for Ligue 1 striker Alexander Lacazette this summer as they prepare to offload a number of players that include striker Lucas Perez. With the immense pressure on the manager, who decided to extend his contract despite extensive disapproval, some big names are expected to join the Emirates this summer.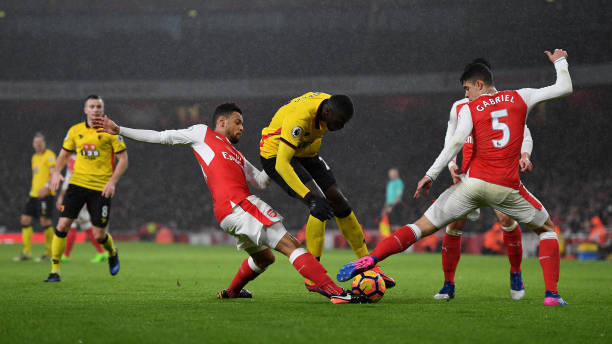 The Gunners also face the challenge of appeasing Alexis Sanchez and extending his contract at the Emirates, which remain an unlikely task. However, the arrival of big players could be one way of doing it. Although Niang is not a big name, not anymore, he surely strengthens Arsenal's attack up front.
Arsenal got immense help from Danny Welbeck at the end of the season as his tireless work rate up front and exquisite finishing helped Arsenal to put the pressure exactly as they wanted. And Niang would be a bigger and expectantly more aggressive version of him given his huge physique.
Under Mazzarri, he managed two goals and two assists last term in 16 games, which indicate he is comfortable in the Premier League. And Arsenal could give him a direct entry. Olivier Giroud has been reportedly used as a makeweight to get in Lacazette, and Niang could come in for his French compatriot.
And what's more, in £15 million, the player could be a cheap buy with good quality. His underwhelming few years did bring down his demand in Europe, but Wenger is known to bring out the best from such forwards. And unlike Giroud, Niang won't demand regular first team action, not yet, making him the perfect backup option at the club for the next season.