It is not often that Real Madrid target players who have played at the Camp Nou but this summer has been a bit different. After it was reported that Neymar Jr could be at the top of the wishlist for Florentino Perez at the Bernabeu it is now understood that they are also trying to lure former Barcelona man Thiago Alcantara from the Allianz Arena this summer. He could cost around £75m in the summer and Zidane is ready to offer James Rodriguez or Isco in return for his services. But is Alcantara the man Real Madrid need next season?
Brother of current Barcelona player Rafinha, Thiago is capable of playing in any of the midfield roles and has been in sparkling form for the German giants Bayern Munich this season. He has seven goals and eight assists in all competitions this season and stands as one of the best midfielders not just in Germany but also in Europe. He has more than 150 league games for Bayern and Barcelona in his career and is a player of the highest order.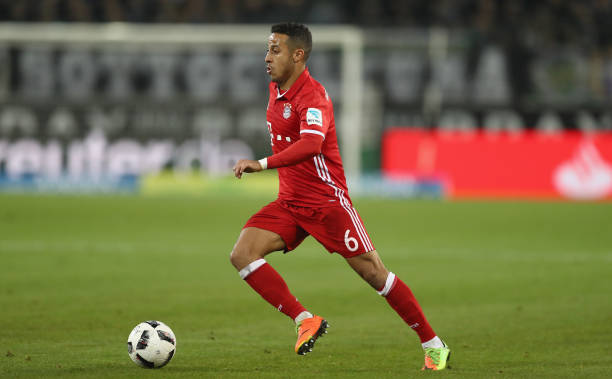 Passing, dribbling and finishing are all his strengths, making him an all-around player. The 25-year old is most productive in a central midfield role where he can not only jump ahead in attack when needed but can also drop back and act as a shield for the back-4. He is a creative player who has all the skills and tricks in the book and there is hardly any player in the Bundesliga who is comfortable defending against him. Though he is not mentioned alongside the best in Europe, Alcantara is surely a player who can change things around even at Real Madrid.
At the Bernabeu, Zidane has used the likes of Luka Modric and Toni Kroos extensively in two of the three midfield position behind the 'BBC'. Casemiro and Mateo Kovacic have acted as the deepest midfielders in most games this season but it is evident that Zidane does not trust either to hold a regular place in the starting XI next season. The French manager wants to change the whole outlook of the squad and Alcantara could be at the heart of the change.
He might push Kroos back into a slightly deeper role but the 25-year old's versatility will surely help Real Madrid make their midfield even more fluid next season. Alcantara is a busy player who will suit Zidane's style of play to the point and if he joins the Bernabeu, Real Madrid may well be dominating the Spanish league and also Europe for years to come. But having played for Barcelona, it should be seen if the 25-year old is ready for the much-hated switch this summer. Do you think Alcantara, contracted with Bayern till 2019, will move to Real Madrid this summer?
The following two tabs change content below.
Aakarsh Bommakanti
Was diving around lush green grass not so long ago but my keyboard is all I have now. An avid observer of detail in sports with a passion to make myself heard. Can find me playing on a field if not in front of my screen.
Latest posts by Aakarsh Bommakanti (see all)