Manchester United fans have a new reason for excitement as they were given a huge boost in their pursuit of Inter Milan midfielder Marcelo Brozovic. The Red Devils have been monitoring his situation for some time now and the player has now gone on to like the English club's page on Instagram, which has sent the United fans into a meltdown. Many believe that Mourinho will land him this summer but what will Brozovic add to Manchester United next season?
Having moved to the Italian outfit back in 2015, Brozovic did not take time to cement a place in the first team and has 63 appearances in the Serie A already to his name in his two years in Italy. He is also an experienced player at the national level making his debut in 2014 but has already got 24 caps.
He is integral to the plans for the club and country at the moment and Mourinho is convinced that he is the right man to improve on his midfield this summer.
With five goals and four assists in all competitions this season, the central midfielder has been in decent form for Inter Milan making 18 league appearances already. An excellent passer with exemplary vision, Brozovic is a proper central midfielder who loves to have the ball at his feet to dictate the game.
He is strong and athletic and loves to hold on to the ball in dangerous areas before feeding it to his teammates in dangerous areas. Though he is not the strongest player in the air, he is not afraid of throwing himself around and this along with his defensive contributions is what has attracted Mourinho at the Old Trafford.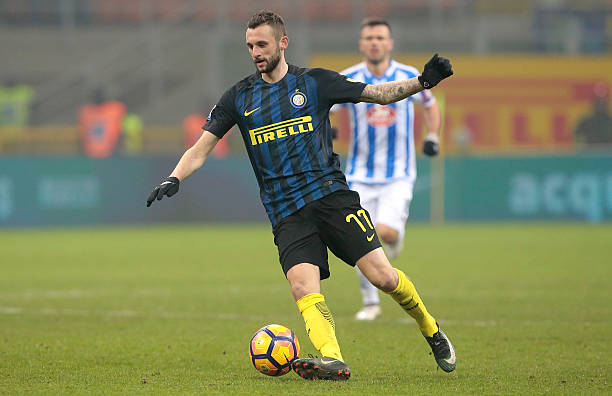 He is a decent dribbler but is more adept at picking up passes into the final third and at just 24, he is a superb option for United in the midfield. The likes of Michael Carrick and Marouane Fellaini may not be at the club next season and Mourinho needs a player who can partner Paul Pogba in the midfield next season.
Ander Herrera has done a decent job in this position but United need a more established star who can be a part of the midfield three along with Pogba and Herrera and there are very few players who can fit in better than Brozovic at the Old Trafford.
Mourinho has also been looking at the likes of Marco Verratti and Fabinho from France but neither player could be ready for a move this summer leaving Mourinho with little options in the transfer market. Though Brozovic is not the best in Europe, he is surely a player who can improve the quality in the midfield in the current squad.
The following two tabs change content below.
Aakarsh Bommakanti
Was diving around lush green grass not so long ago but my keyboard is all I have now. An avid observer of detail in sports with a passion to make myself heard. Can find me playing on a field if not in front of my screen.
Latest posts by Aakarsh Bommakanti (see all)