Arsene Wenger's Arsenal has some star players lined up for a move this summer and one player who they have reportedly opened talks with recently is Bayern Munich star, Kingsley Coman. Currently on loan in Germany, Coman is also wanted by the likes of Chelsea and Manchester City this summer but according to Metro, Arsenal have made an official approach for his signature this summer. So what will this French starlet add to the Gunners next season?
Born and brought up in Paris, Coman has won the French League, the Bundesliga and now the Serie A in the last four years in his time with PSG, Juventus and Bayern Munich. He is currently an important part of the squad under Carlo Ancelotti at the Allianz Arena and the manager has revealed that he is happy to stay in Germany but he has been extensively linked with an exit and Arsenal are one of the many clubs desperate for him.
A versatile winger who can play on either flank, Coman is an exceptional dribbler who can go past his opponent with relative ease. He is a superb passer of the ball and has exceptional vision and technique for a 20-year old. He is also adept at holding up the ball in attack to allow his teammates to push forward into the final third.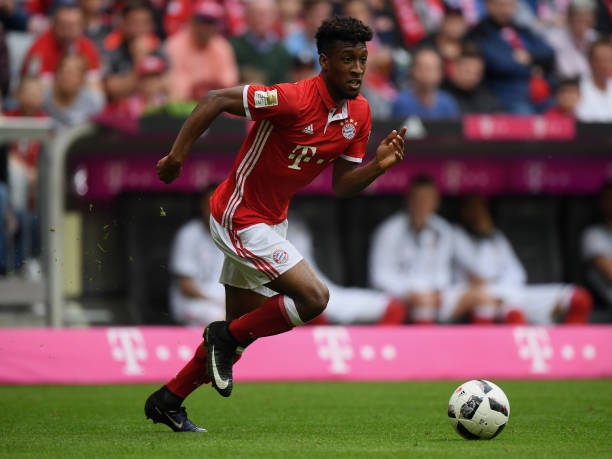 He loves to take on his man on the wing and create space for himself behind the backline but is also capable of cutting in and setting up his teammates on goal. He is also quick with his feet and attracts a lot of fouls constantly.
Though he is not the strongest in the air, Coman has a couple of goals to his name in just seven starts for the German side this season. At the Emirates, Wenger is sweating over the future of one Alexis Sanchez, who is reluctant to put pen to paper. The Chilean winger may well quit the club this summer and Arsenal will need a star name to replace him and Coman, if not next season, can be that in years to come.
At just 20, he is up there with the best youngsters in the world and Wenger will have to spend just over £40m for his services at the end of the season. Coman, if he joins Arsenal, will see the Gunners go with a front three of Mesut Ozil, Theo Walcott and Coman just behind a striker making their attack all the more exciting.
If they do not lose Sanchez also, Arsenal can do with Coman's quality and industry as the 20-year old can help them change things and add dynamism to the squad, to help them win close games. Surely, Wenger should do what it takes to bring Coman to the Emirates this summer.
The following two tabs change content below.
Aakarsh Bommakanti
Was diving around lush green grass not so long ago but my keyboard is all I have now. An avid observer of detail in sports with a passion to make myself heard. Can find me playing on a field if not in front of my screen.
Latest posts by Aakarsh Bommakanti (see all)