The international break is finally over and club football is back in town. The Spanish domestic league is getting more and more interesting as Luis Enrique's Barcelona are quickly running out of time to cover the two-point difference they have over Real Madrid at the top of the table. The Catalan giants will fight for all three points against Granada in a Sunday night kick-off but they have a couple of players missing for this game. While Arda Turan and Jordi Alba are ruled out through injury, one player who will miss this game is Argentine star, Lionel Messi. Messi is suspended for this game for accumulation of yellow cards and this will leave Barcelona, short of a talisman in the final third. They should have enough quality to cover for him but will need their players to step up to the plate. Here are three such players Barcelona need at their best if they are to win this game:
Denis Suarez:
Possibly the direct replacement for Lionel Messi in the first team, Denis Suarez is one of the most exciting players in the La Liga but he has not been able to find consistent game time at the club and is not in the best of forms. He has what it takes to help Barcelona to a victory and playing alongside the likes of Luis Suarez and Neymar Jr, will only improve his game. But Barcelona desperately need him to step up this weekend if they are to stay in the hunt for the title.
Luis Suarez:
The next player that Messi's absence will affect is star striker Luis Suarez. The former Liverpool man has established a connection with the Argentine but with Messi missing this game, Suarez is expected to hog the number 9 position constantly in this game. This will mean that he will have more responsibilities of finding the back of the net and though he is not new to it, the added pressure of the domestic title might get to the Uruguayan. In a game where Messi is absent, Suarez is the most important player for Barcelona this weekend.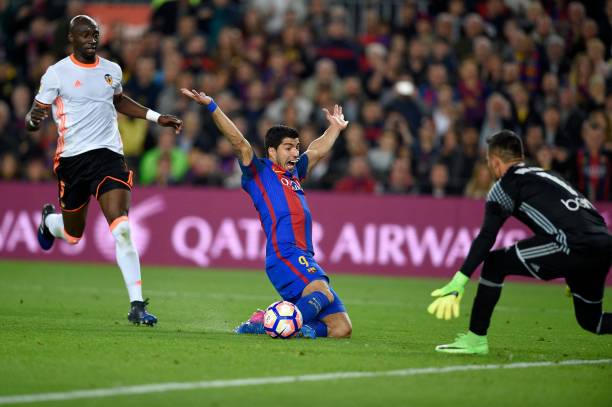 Andres Iniesta:
The Spanish midfielder may or may not start this game against Granada but surely, he will have a huge role to play in this game. He should be a part of the midfield three for Barcelona in this game and though he has not been in great form this season, he is expected to be the one to break the defensive line of the visitors on the night. Busquets, Rakitic and Rafinha are expected to start this game but with Messi missing, Luis Enrique may well opt for Iniesta to add some cutting edge to his attack. Surely, the Spaniard will have to shoulder the creative responsibilities of the side in the absence of his Argentine colleague.