Borussia Dortmund were far from their best at Signal Iduna Park as they were held by Pal Dardai's exceptional Hertha Berlin. A goal from Valentin Stocker was enough for the visitors to snatch a point as Pierre-Emerick Aubameyang netted his fifth Bundesliga goal of the season, after missing a penalty, to only salvage a draw in the end.
Lineups
The overwhelming list of injuries forced Thomas Tuchel to field a more involuntary 4-2-3-1 lineup.
Roman Bürki kept his place as the number one goalkeeper. The injuries to defenders Sokratis, Neven Subotic and Sven Bender along with Marc Bartra, not being declared fit enough to play, handed new signing Mikel Merino his Bundesliga debut alongside Matthias Ginter, who had a daunting task to lead the BVB defense full of youth with Felix Passlack as the right back.
The 4-2-3-1 line-up meant Sebastian Rode was slotted in alongside the ever-present Julian Weigl. Ousmane Dembele was surprisingly left on the bench (presumably to keep him fresh for the clash against Sporting on midweek), as Turkish International Emre Mor filled in at left wing with American teenager wunderkind Christian Pulisic on the other side. Mario Götze was handed a start, straight after his international duties with Germany a few days ago. He started just behind Pierre-Emerick Aubameyang in the attack.
Dortmund started the game with quick fettle, subtle passing but the rigid Hertha formation took shape as the game went on. The left sided centre back Mikel Merino converted to a more wide positioning and Ginter stayed centrally with Sebastian Rode occasionally dropping deep to link up the play with Julian Weigl, who was monitored quite often by Per Skjelbred.
Weigl was overall pretty good, managing an identical 90% pass accuracy and being the hub of the midfield. It was however, Sebastian Rode, whose performance was badly questioned by fans and experts. The former Bayern Munich man, having owned 90% pass accuracy, terribly failed to enumerate creativity and fleetness to the team, with most of his passes being insignificant, scrabbling around the backline instead of annexing a more driving influence.
Prior to the game, Rode's average passes were traveling 2.5 yards backward as my colleague and a fellow BVB fan Abel Meszaros pointed out in Dortmund's problems in the bolstered midfield in his excellent statistical analysis series.
Another interesting point was Passlack's movement. As we've come to know lately, the 18-year old Dortmund graduate actually flatters to deceive while passing forward thanks to his extremely conservative passing analytics. The young right back totaled 47 backward passes against Hertha, more than anyone else on the field!
Passlack came into today with incredibly conservative passing numbers, not changing much in the 1st half pic.twitter.com/jRvDTkSAW2

— Saturdays on Couch (@SaturdayOnCouch) October 14, 2016
The attack was kept quite very well by the Hertha defense, with Aubameyang managing no more than 12 touches in the first half! The brilliantly co-ordinated Hertha midfield proved too much for Rode and Co. to break in lines, and at this part, Dortmund were clearly lacking the driving influence of departed Ilkay Gundogan or in fact, injured Raphael Guerreiro.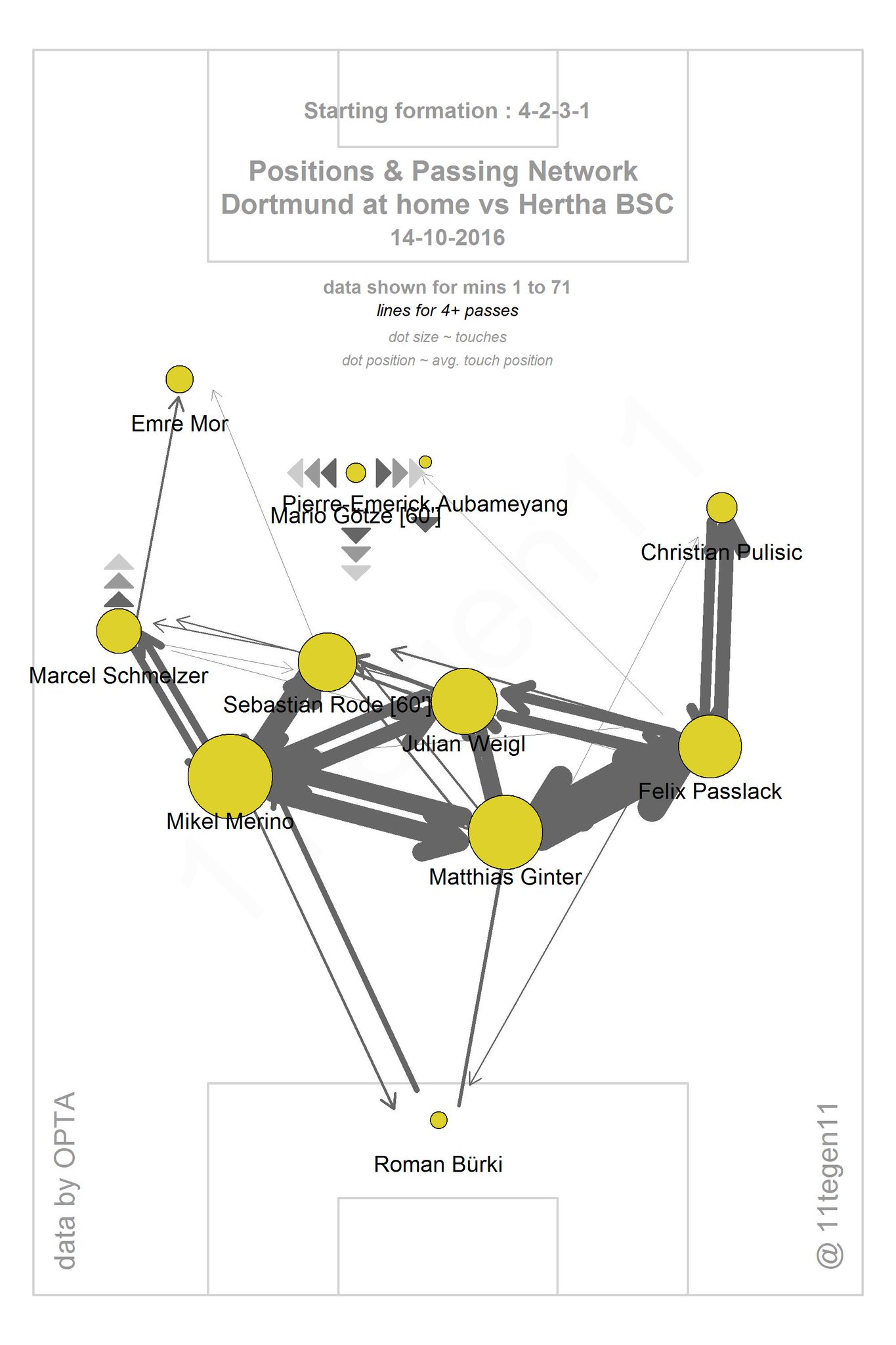 The passing channel evidently reveals Dortmund's problems breaching the half space down the opposition lines. This caused the attackers not getting enough fuel from the midfield thanks to some excellent gameplan by 'Pep' Dardai's team. The midfield combination of Niklas Stark and Per Skjelbred worked wonders for the Hungarian coach. Stark on the one side, completely nullified Mario Gotze, who was although sharp with his touches on the night but unlike Mkhitaryan, the world champ came nowhere near breaching the enemy lines with extreme dynamism.
Christian Pulisic showed glimpses of his brilliance, taking on three or four players all by himself as well putting up some dangerous crosses, but his threat faded away in the second half. While Emre Mor offered some spark on the left hand sight, attempting seven takeons along with a few shots but he too got owned by Hertha's right back, Mitch Weiser. Mor's horrid passing accuracy of 46% is enough for us to hand Weiser the credit. Of course, we can't silver line the fact of Schmelzer, yes Schmelzer and the quick Emre Mor being deployed and 'trying to link up' on the same flank.
As the xG figure(curated by @11tegen11 on twitter) suggests, the substitutes Shinji Kagawa and Ousmane Dembele quickly turned the game on its head, with the duo creating three chances (the same amount of which Dortmund's attackers had managed last night) and putting away a few shots. The ball carrying abilities of Shinji Kagawa and the dynamism of Ousmane Dembele down the middle showed Thomas Tuchel of what he was missing the entire game.
Now time to give Hertha the credit right?
Even though Die Alte Dame defense sat deep to defend the pressure of BVB, Pal Dardai's side effectively managed a strong link to attackers Genki Haraguchi and Valentin Stocker, with Alexander Esswein being occupied in a more defensive role. Mitch Weiser played an integral figure in both defence and attack, the former Bayern winger managed a very well balanced link up chain with Esswein and Haraguchi.
Hertha also did well to put an end to Dortmund's chance creation opportunities frequently enough by fouling them on regular intervals. Now, we all know what Thomas Tuchel is gonna say right? Well, don't care about it.
Overall, despite Dortmund's injury problems, one would feel that the quality of the squad fielded against Hertha was enough to put them past the old ladies. It was not the case however, thanks to Dardai's brilliant executed gameplan. As for Tuchel, his team fall victim of not having a driver in midfield and his young team couldn't score despite making ton of chances in the second half.