Barcelona newcomer Jose Manuel Arnaiz is another fringe player, turning heads in Spanish football. The Valladolid youngster played a starring role last season, for the Valladolid first team, scoring an impressive 12 goals and chipping in with four assists in the Spanish second division.
Arnaiz's remarkable performances in the second tier earned him a move to the Barcelona B side this summer. The 22-year-old didn't take long to settle at his new club and is constantly making a push to be promoted in the Barcelona first team. His impressive display has already caught the eyes of Bayern Munich, Manchester United and Arsenal, who are keen to trigger his £17.8 million release clause.
But does he have what it takes to thrive in the Premier League? Here's a detailed SWOT report on this Spanish winger turning heads in the Spanish second division this season.
Strengths
Pace is the most valuable asset for Jose Arnaiz. The 22-year-old is blessed with raw pace, which makes him a real threat, especially from the counter attacks.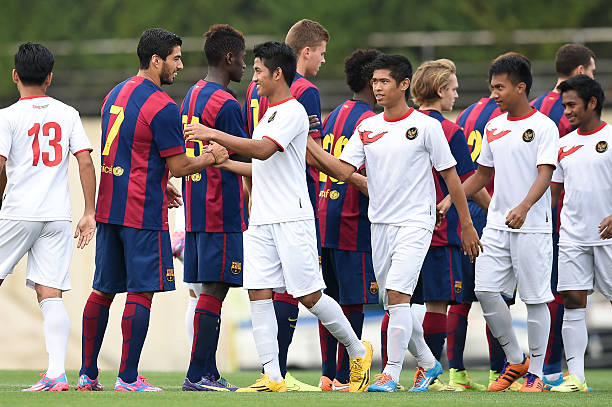 Aside from his remarkable pace, Arnaiz is a naturally gifted playmaker who can, not only cause havoc from the wings but also has the tendency to drift into the middle to control the tempo of the game. He is blessed with brilliant technical abilities and a deep understanding of the game as well.
His ability to dribble past opposing defenders even at full throttle is what makes him a unique composition in the final third. Early days into his career as a Barcelona player and the youngster is already compared to Argentinian superstar Lionel Messi, which really speaks a lot regarding his abilities to make things happen.
Weaknesses
Lack of physicality is one of the main weakness for Jose Arnaiz. Considering the fact that the English football has grown to be more physical in recent years, his lack of physical prowess can be deemed as a massive flaw in his game. He can easily be shrugged off the ball by an opposing defender and it's one of the things that he must improve upon.
Arnaiz also lacks the defensive cohesion in his gameplay. The 22-year-old is way too offensive minded to help out in defence in any way. Meaning he may not be a good outlet playing as a wingback or any kind of defensive role.
Opportunities
Jose Arnaiz is poised to be promoted to the Barcelona first team and considering the fact that Barca are already lacking on the attacking front at the moment, with the injury of Ousmane Dembele, he may well make his jump to the senior squad sooner rather than later.
Elsewhere, however, things could get a bit cocky as life could prove to be very difficult in England with the massive competition and high octane gameplay. Therefore, chances will be hard to come by for the young Arnaiz in the Premier League.
Threats
Lack of experience is an optimum threat for Jose Arnaiz. While he may possess enough flair and skillset to thrive in any kind of footballing condition, it's the lack of top-flight exposure, which will hurt him if he moves to the Premier League this January or next summer.
The following two tabs change content below.
Anas Ali
Bundesliga connoisseur and writer at Bundesliga Fanatic and The 4th Official. My heart belongs to Borussia Dortmund or Eintracht Frankfurt (still not sure who deserves the most), but I adore the Bundesliga and Spanish footballing tactics. 16 years old, Josh rides Tyler |-/ (I already love you if you know what that means)/ Come to my house and we will watch Netflix and eat Nutella. lol just kidding.
Facebook Comments
comments