Celtic suffered a disappointing defeat to PSG in the Champions League on Tuesday night. But they were looking to get back to winning ways when they took on 9th place Ross County in the SPL today.
They started the day top of the league but only by goal difference. So, a win today was necessary to ensure 2nd place Aberdeen did not overtake them at the top of the table.
In terms of injuries, Celtic were able to welcome back Moussa Dembele to the squad, he started the match out for Celtic today while Dedryck Boyata was assessed prior to the game after he battled back from a knee injury. He did not make the squad today though
The first half was heavily dominated by the Scottish giants. They spent 95% of the half sat in Ross County's half due to them sitting so deep. County were unable to contain Celtic though and they took a 2-0 lead before the half-time whistle.
The second half saw Ross County push forward a bit more. They were ultimately punished for this as Celtic scored another two making it 4-0 on the day.
Here are the Celtic player ratings from their 4-0 win.
Craig Gordon:  8/10
Gordon was first called into action on 10 minutes when Ross County broke and fired a shot on the edge of the box straight at Gordon, it was a comfortable save for the keeper. Celtic's keeper only really came under pressure on 50 minutes when a Ross County striker shot from 12 yards out but Gordon pulled off a great save.
Gordon had to do very little today but he did everything well today.
 Anthony Ralston:  7.5/10
Ralston had very little to do in the first half due to Ross County sitting so deep. This did allow Ralston to burst forward late in the second half though. He had a shot from about 30 yards out that smashed against the post. Other than that, pretty easy half for the youngster.
The second half was also pretty quiet for Ralston except a few bursts forward from the youngster.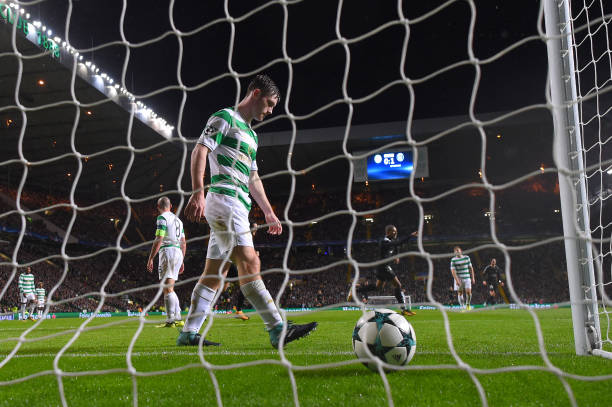 Jozo Simunovic: 7.5/10
Like all of Celtic's defence, Simunovic barley touched the ball in the first half. Ross County barley attacked and what little counter-attack they did muster up, Simunovic did well to deal with.
Simunovic had a similarly quiet second half and did well to help Celtic keeper another clean sheet.
Nir Bitton:  7.5/10
Once again Bitton had little to do playing as Celtic's left-sided centre-back in the first half. What little he had to do, he did well.
Bitton barley touched the ball in the second half and had to do very little, again. One of the easier games he's ever had to play.
James Forest: 9.5/10
Forest assisted Celtics first goal today when he dummied his cross and played it to Rogic instead who finished his shot superbly. The winger then created a goal-scoring chance on 32 minutes after a superb piece of skill to beat his man. However, he shot just wide.
Forest was in the right place at the right time for Celtic's third when he poked home the rebound from Rogic's shot on 52 minutes to make it 3-0.
Forest then got Celtic's fourth of the afternoon. He ran past two County defenders and smashed it past the keeper and into the bottom corner.
He finished the game with two goals and an assist and was the man of the match.
Scott Brown: 8/10
Brown was the deepest of the three centre mids today. He did very well linking up the play and controlling the game.
He made a host of good tackles to break up some counter attacks and also pitched in going forward with a few key passes. Another solid game from Brown.
Stuart Armstrong: 7/10
The centre mid took a long shot from 25 yards out on 25 minutes but the keeper saved it. A few minutes later he was played in by Dembele and he had the chance to either shoot or play it across goal. But he got the ball stuck under his feet and the keeper cleared it.
Armstrong was then subbed off on 6o minutes. He was probably Celtic's quietest attacking player today. But he didn't do much wrong.
Tom Rogic: 9/10
Rogic opened the scoring for Celtic today. A very well placed shot from Rogic found its way past three County players and in to the bottom corner. It was a very good finish. Rogic was perhaps Celtic's brightest player in the first 45 minutes today.
Rogic started the second half brightly as well. He let fly a screamer on the edge of the box on 52 minutes. His shot was saved but Forest poked home the rebound. Rogic had another powerful shot moments later, this one went just over.
Rogic caused trouble for Ross County all the way through the game. Including in the 82nd minute when he beat several defenders to set up Sinclair who put it straight at the keeper.
Jonny Hayes: 7.5/10
A pretty quiet first half for Hayes, he linked up well a few times with Dembele but he never really created any real clear chances.
Hayes was a bit brighter in the second half and he linked up with substitute McGregor very well. He also put a few decent crosses in. Not his best every performance though considering how much attacking Celtic did.
Moussa Dembele: 8.5/10
Today's game was Dembele's first SPL appearance of the season since returning from injury. He didn't have the most exciting start but he did play through Armstrong midway through the half. Armstrong, however, was unable to convert. Dembele came to life a bit later in the half though. He picked up the ball on the edge of the box, touched it passed his man and curled his shot into the bottom corner. Another excellent goal for Celtic.
Dembele was subbed off on 59 minutes due to this being his first game back for some time. Overall, the striker had a very successful return game.
Lee Griffiths: 7.5/10
Griffiths played Forest in on 32 minutes who then shot just wide. Lee Griffiths also then got the assist for Celtic's second goal but that was largely all Dembele.
Griffiths did not score today. However, he worked extremely hard today and closed down Ross County players very well. He was replaced on 74 minutes by Scott Sinclair.
Substitutes
Odsonne Edouard: 7/10 (59 minutes)
His first chance came on 62 minutes but he couldn't control the ball in the box. His second chance came on 66 minutes, this time the keeper closed down well and Edouard could do nothing but put it straight at him.
Edouard did get the assist for Forest's second but it was mainly all down to Forest. He did make a few good chances late on though for Sinclair who didn't score both.
Callum McGregor: 7/10 (60 minutes)
McGregor made an almost instant impact coming on. He lined up well with Hayes and managed to play in fellow-sub Edouard who failed to control the pass.
McGregor played Edouard through again minutes later. This time the keeper saved his shot.
Scott Sinclair: 7/10 (74 minutes)
Sinclair had a very good chance on 82 minutes which he probably should have scored. But he put it straight at the keeper. He had a second chance moments later, this time a good finesse shot which forced a good save.