Manchester City are not too far away from creating history in the Premier League as they strolling their way to the Premier League title, breaking records all around. But Pep Guardiola is mindful of the fact that his side still has frailties that need to be addressed in the upcoming transfer window, which has seen him scout for some of the finest stars in Europe.
City have one of the strongest squads in Europe at the moment but are a bit short in the midfield. So it does not come as a surprise that City are linked the finest midfielders in the game, for a move at the end of the season. One such name, now doing the rounds is Spanish playmaker Isco Alarcon.
Standing as one of the best players in his position, Isco is an attacking midfielder with gifted technique and vision. He is a skilful, fleet-footed player who has made a name for himself at one of the biggest clubs in Europe.
Isco moved to Bernabeu in 2013 but is yet to establish himself in the first team under Zinedine Zidane and reports from Spain now state that the Real Madrid hierarchy are planning to get rid of him at the end of the season.
The report claims that Florentino Perez is unhappy with Isco's attitude of being dropped from the first team and is ready to cash in on him in the summer transfer window. The story goes on to claim that Manchester City and Chelsea are in the best position to land him as Isco does not want to join the likes of PSG, just for financial reasons.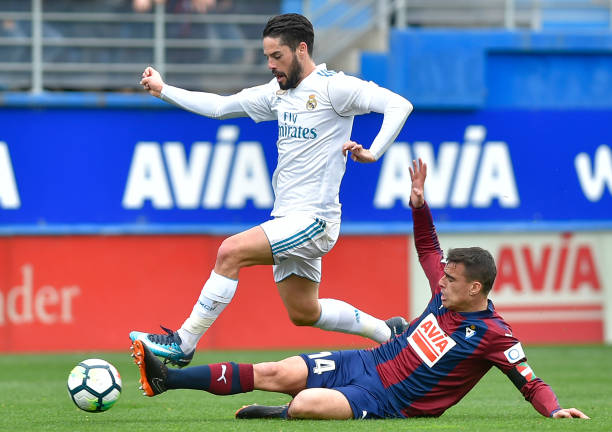 He only signed a new contract at the start of the current season, which increased his release clause to a whopping €700m but with Real ready to sell, he might be up for grabs at less than €100m, which is a serious coup. So should City go spend on him?
With just 44 goals and 43 assists in 224 La Liga appearances, the 25-year old has not done enough justice to his potential and Zidane's rotation policy has not helped him settle in. He is at his best in a no.10 and might face a similar problem at Manchester City.
Guardiola has used a 4-3-3 system this season with Kevin de Bruyne and David Silva playing in the advanced roles in the midfield. Isco plays a similar role and will have to bench either to make it to the starting XI.
He can also play on the wing but the likes of Raheem Sterling and Leroy Sane have cemented their place in the first team, making Isco a squad player. City needs a defensive midfielder to complete their jigsaw and though Isco will improve the squad monumentally, he will not have as much of an effect as he might have at Chelsea or another club.
But do you think City should spend on Isco?
The following two tabs change content below.
Latest posts by Aakarsh Bommakanti (see all)
Facebook Comments
comments