Barcelona now have one of the strongest sides in Europe at the moment and are expected to make a few changes this summer, to cut their losses. A number of players like Arda Turan and Rafinha are struggling to get into the first team but one player who is now expected to be sold is midfielder Andre Gomes.
Having fallen further down the pecking order after the arrival of Philippe Coutinho, Gomes has revealed in an interview that he is unhappy at Barcelona and hinted that he might be on his way out of the club at the end of the season. If he does decide to quit, here are three English clubs that should look to sign him his summer:
Tottenham Hotspur:
Spurs have been scouting for the Portuguese midfielder for more than a year now and will surely make a move for him at the end of the season. With Mousa Dembele no longer a long-term option, they are in search of a midfielder who can take his place in the side and Gomes is a decent bet. Though not too impressive at Camp Nou, he has always been productive for the national side and Pochettino could easily bring the best out of him.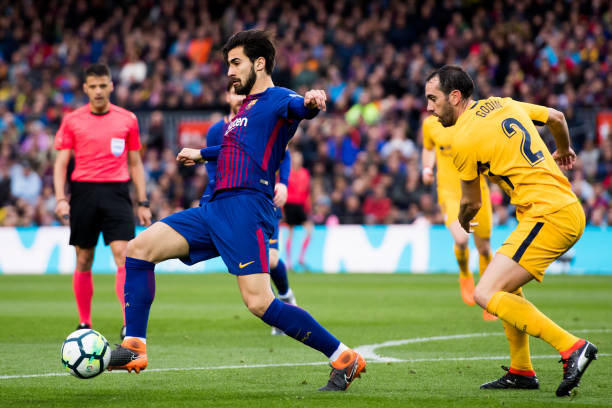 Liverpool:
The Reds could be a bit short in the midfield this summer if they end up losing Emre Can to Juventus. Though Gomes cannot play in a no.6 role, he can definitely put in a shift in the other two roles in the midfield and could be a game changer in Klopp's style of play. He is a dynamic midfielder who can create chances at one end and add some mettle at the other and could be a decent squad player for a team that will look to challenge for the title next season.
West Ham United:
The Hammers have also been looking at Gomes since the end of the last season. The 24-year old decided to stay back at Camp Nou this season but might be ready to move to London this summer. West Ham brought Joao Mario in Gomes' place on a loan but if they sign the Barcelona midfielder this summer, they are sure to do all it takes to land him. At his age, Gomes will want to play as regularly as possible and for that, West Ham is probably his best destination.
Where do you think Gomes fits in best?
The following two tabs change content below.
Aakarsh Bommakanti
Was diving around lush green grass not so long ago but my keyboard is all I have now. An avid observer of detail in sports with a passion to make myself heard. Can find me playing on a field if not in front of my screen.
Latest posts by Aakarsh Bommakanti (see all)