Manchester City head coach Pep Guardiola has agreed to a new contract with the club, which could see him at Etihad at 2021. His current contract with Manchester City is set to expire at the end of the next season. However, as per reports from The Daily Mail, the Catalan will only put pen to paper after winning his first silverware with the club.
Following a rough start to his Premier League career, Pep Guardiola has once again managed to prove the critics wrong as the former Barcelona head coach has been sensational this season. Guiding Manchester City to an almost unbeaten season, Guardiola has arguably been the best coach in Europe so far this campaign.
Under his leadership, Manchester City have found real success, leading the Premier League table by a whopping 16 point lead over second placed Manchester United. Furthermore, the Sky Blues have also registered a convincing win against FC Basel in the first leg of their UEFA Champions League knockout fixture and are looking destined to go through to the next round.
Although the Catalan mastermind received tonnes of critics, following his huge spending spree last summer, when he splashed around €250m on eight players. However, most of his acquisitions have proved to be a real success this season while some of them have been instrumental in Manchester City's meteoric rise under Pep Guardiola so far, including the likes of Ederson and Kyle Walker.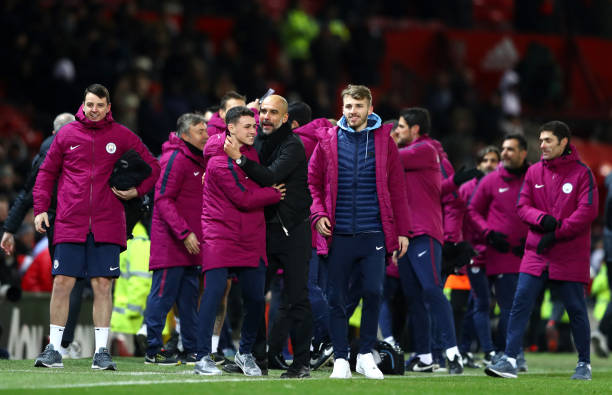 Ederson, in particular, has been one of the best keepers in the Premier League this season. In addition, a host of other Manchester City players have also evolved their game to a new level, all thanks to the incredible coaching of Pep Guardiola. The likes of Raheem Sterling, Leroy Sane, Fernandinho and Nicolas Otamendi are looking like an entirely different player than we were accustomed to, a few years ago and for good reasons, too!
Aside from bagging the Premier League crown already, the Citizens also have a huge chance of making a stir in the Champions League this season. Though the recent 1:0 defeat to Wigan knocked them out of the FA Cup, shattering hopes of Man City fans potentially landing a treble, the Manchester giants still have a decent chance of landing a double this season, something which has grown to be quite a rare sight in English football in recent years. 
Therefore, Manchester City fans should definitely be delighted with the contract extension of their head coach Pep Guardiola, which can be a huge boost not just for the club's future but also for the Premier League's future, as the Catalan mastermind has the talents to help the English football, which has somewhat lagged behind its counterparts, evolve within these coming years, 
The following two tabs change content below.
Anas Ali
Bundesliga connoisseur and writer at Bundesliga Fanatic and The 4th Official. My heart belongs to Borussia Dortmund or Eintracht Frankfurt (still not sure who deserves the most), but I adore the Bundesliga and Spanish footballing tactics. 16 years old, Josh rides Tyler |-/ (I already love you if you know what that means)/ Come to my house and we will watch Netflix and eat Nutella. lol just kidding.
Facebook Comments
comments