Tottenham Hotspur will know that they have a tough fight on their hands to qualify for the Champions League next season and manager Mauricio Pochettino will do anything to make sure that they can continue their momentum in recent games. They are just three points away from Liverpool in the 4th spot and Pochettino will need his side to be at their best in the second half of the season, to topple the Red of Merseyside.
If this was not enough of a problem, Spurs are entering a phase where top clubs in Europe will be after the best players at the club. The likes of Hugo Lloris and Harry Kane are already linked with an exit but Pochettino is now ready to take the first step, to tie midfielder Dele Alli down to a new, long-term contract at the club.
Earning just over £50,000 per week in the English top flight at the moment, Alli is easily one of the most exciting playmakers in the game at the moment and though he has been out of form this season, is still wanted by the best of the teams around Europe. Real Madrid and PSG reportedly have him on their wish-list but it is now understood that Spurs are close to getting him to sign on the contract extension.
According to the reports, Tottenham Hotspur are confident that the deal will be signed upon, before the end of the season and are convinced that Alli is happy in London and he is not going anywhere, anytime soon.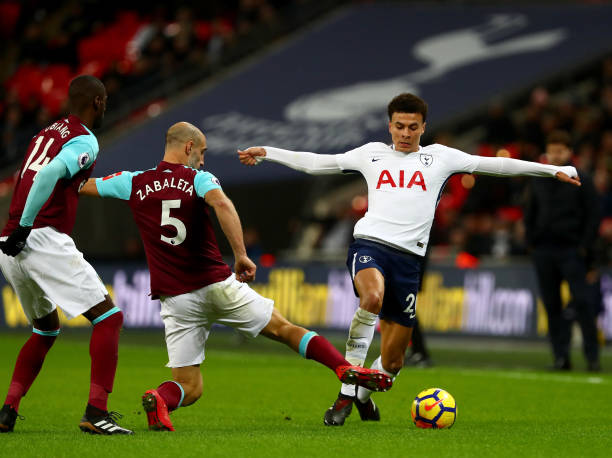 With 5 goals and 7 assists in 21 league games this season, the former MK Dons playmaker now has 33 goals and 25 assists in 91 PL appearances to add to 2 goals in 22 international appearances for the Three Lions. He is the first choice for both club and country and is already a star, at just 21.
Versatile and aggressive in his approach to the game, Dele Alli is a gifted footballer with a keen eye for goal. He can create chances consistently in the final third while his dribbling abilities along with technique on the ball and his vision, make him much more dangerous.
At his age, he is one of the best teenagers on show in the country and could fetch over £100m, if Spurs decide to sell him. However, Pochettino is adamant not to lose him and is ready to offer him a new deal, just 18 months after he signed his previous one.
He is expected to see his wages doubled if he signs the extension but could get double that if he quits anytime soon. So it will be interesting to see if Alli decides to extend his stay. Do you think he will sign the new deal?
The following two tabs change content below.
Latest posts by Aakarsh Bommakanti (see all)
Facebook Comments
comments