Pep Guardiola has something special going on at the Etihad in his second year in England as his Manchester City side are running away with the league title, even before the turn of the year. The manager will take this January transfer window as an opportunity to reshape his squad and while adding numbers will be important, he will also look to release players, who need some game time.
The academy at the club has some fine youngsters on display and a few will need to find other clubs, to continue their development. One such player, who will now spend the rest of his season on loan in the Scottish Premier League is young Chidiebere Nwakali.
The 21-year old joined the Manchester City academy back in 2014 and in just a year, was promoted to the U23 side. However, he has failed to make a single league star at the Etihad, spending most of his time on loan at five different clubs.
He moved to Sogndal, a Norwegian football club, making 28 appearances and scoring four goals from the midfield. His loan spell ended at the turn of the year and Pep Guardiola has decided that a move to Scottish side Aberdeen on loan, who are currently second in the domestic points table.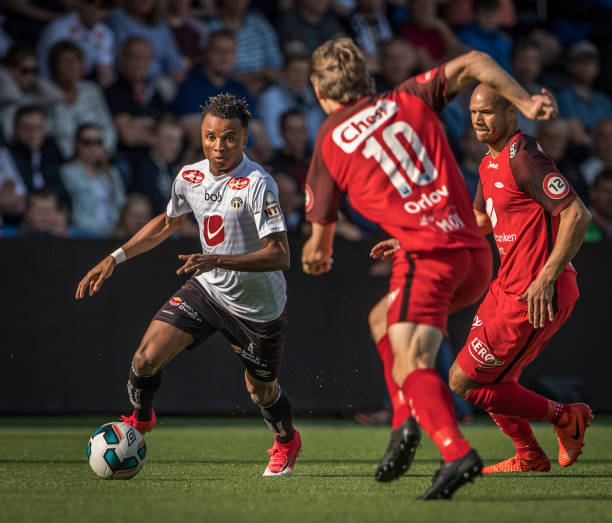 Derek McInnes is reportedly a huge fan of the Nigerian U20 international and is convinced that he can help his side retain their place, close to the top of the table. The Scottish outfit recently sent midfielder Greg Tansey's loan and Nwakali could be his replacement in the side for the rest of the season.
A holding midfielder with gifted technique, the 21-year old has an exemplary vision and is a forward-thinking player, who loves to dominate the midfield. His confidence on the ball and positioning of it is right up there with the best.
He won the U17 World Cup back in 2013 and has already established himself on the European circuit. The hierarchy at Manchester City are convinced that he is a star for the future but manager Guardiola wants to be patient and wants him to polish on his qualities before he is pushed into the top flight in England.
This will be the first British club Nwakali will play in and if he can impress McInness and get some game-time under his belt, he might even be ready for first-team action in England, come the end of the season. But do you think he has a future at the Etihad?
The following two tabs change content below.
Latest posts by Aakarsh Bommakanti (see all)
Facebook Comments
comments